Jason Hammel to have knee surgery, miss four weeks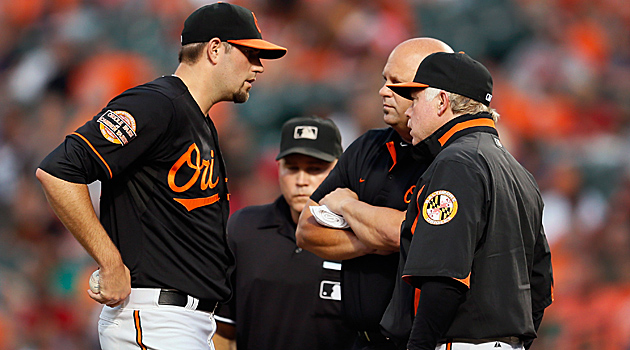 Hammel's knee injury flared up Friday against Detroit. (Getty Images)
Orioles starting pitcher Jason Hammel will have arthroscopic surgery to repair some loose cartilage in his right knee on Monday, the Orioles announced. He is expected to miss four weeks. So, obviously, Hammel has been placed on the disabled list, with right-handed reliever Steve Johnson getting the call from Trilpe-A Norfolk.
Hammel, 29, has been the Orioles' best starting pitcher this season after coming over in a trade this past offseason. He's 8-6 with a 3.54 ERA, 1.24 WHIP and 106 strikeouts in 109 1/3 innings.
This means the Orioles currently have three starting pitchers on the active roster, though it's known that Chris Tillman will be recalled in time to start on Monday. From there, Zach Britton will make his 2012 Orioles debut Tuesday. Tommy Hunter looks likely for Wednesday, too, as Orioles manager Buck Showalter said Brian Matusz is not a consideration (School of Roch). If not Hunter, Jake Arrieta could be an option.
Or maybe star prospect Dylan Bundy? I kid, I kid.
Here's what Hammel had to say about his decision to go under the knife (via masnsports.com):
"Obviously it's not what I want to do, but it's what needs to be done. I can't keep pitching on a bad leg and start doing things with my arm and hurting stuff there. I'm bummed out, but it will be a pretty routine surgery. I figure a few weeks, maybe four weeks hopefully for the return, which gets me back in time to help the club."

"They'll go in and pull out the cartilage that is floating around and see if there is anything else in there that we haven't caught. They told me three-to-four (weeks to be back) right now. It could be later than that, it could be earlier than that if I'm a superhero."