Royals DFA lefty Jonathan Sanchez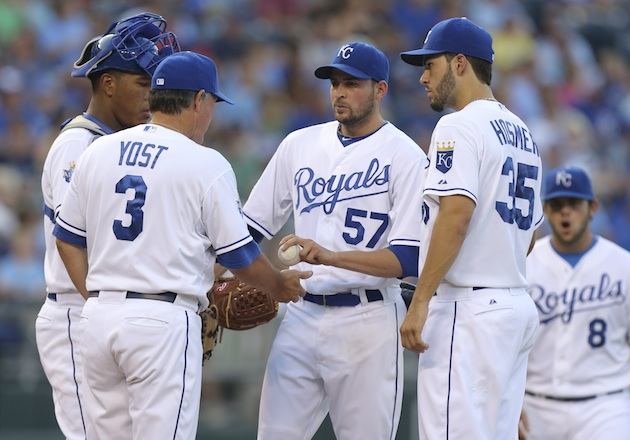 Sanchez's forgettable tenure in K.C. is over. (Getty Images)
It made sense at the time -- after Melky Cabrera, coming off what the team assumed was a career year, turned down an offer of a contract extension, the Royals decided to trade him. The thinking was sell high and buy a pitcher low.

The problem was Cabrera continued to soar, while the pitcher the team received from San Francisco, Jonathan Sanchez, sunk. Tuesday, the Royals designated the left-handed Sanchez for assignment, effectively ending his time as a Royal.

In 12 starts for Kansas City, the 29-year-old Sanchez was 1-6 with a 7.76 ERA. Monday night he surrendered seven runs in just 1 1/3 innings in a loss to the Mariners. That was the last straw, as the Royals decided paying him $2.5 million not to pitch the rest of the season was better than him pitching. Sanchez gave up 65 hits in 53 1/3 innings and his WHIP of 2.044 was the highest of any pitcher with a minimum of 40 innings pitched in Royals history.

Meanwhile, Cabrera was the All-Star Game MVP -- in Kansas City no less. The 27-year-old is hitting .353/.391/.514 with eight home runs and 45 RBI.

Sanchez was 13-9 with a 3.07 ERA in 2010, pitching in five games in the postseason, helping the Giants to a World Series title. In 2009, he threw a no-hitter against the Padres. In short, the ability was in there somewhere, even if the Royals never got to see it first-hand. This season his strikeout rate dropped, while his walk rate rose. He finished with 36 strikeouts in 53 1/3 innings -- in four of his six seasons in San Francisco, he had more strikeouts than innings pitched, and that includes 2008 when he had 157 strikeouts in 158 innings. The only other season he didn't have more Ks than IP was his first in the big leagues, 2006, when he had 33 strikeouts in 40 innings.

This season he threw fewer fastballs and more changeups than every before, with his fastball's average velocity dropping to 89.1 mph -- down from the 90.5 mph he averaged in 2010.

Kansas City called up left-hander Ryan Verdugo (who was also part of the Melky Cabrera trade) and right-hander Vin Mazzaro from Triple-A Omaha, with Verdugo getting the start Tuesday against the Mariners. The Royals also optioned outfielder Jason Bourgeois to Triple-A.

The Royals made the trade for the right reason -- they need a top of the rotation starter and they needed to make room in the outfield for some of their younger players coming up -- it's just that they picked the wrong pitcher to gamble on in Sanchez.