Potential trade deadline steal: Chase Headley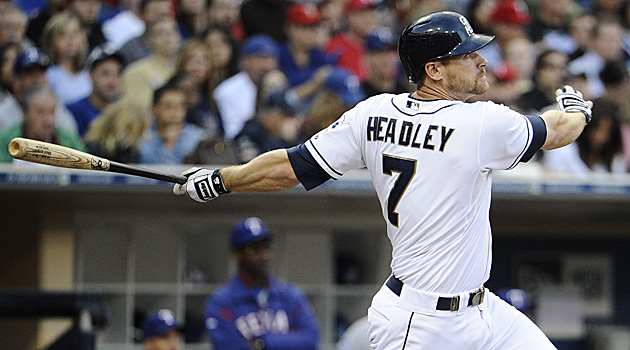 Headley could turn out a steal at the deadline. (Getty Images)
As we zero in on the trade deadline, we're entering the period of time where a large number of names get thrown into the already-churning rumor mill. This season, there appear to be lots of buyers and a precious few sellers. One of those sellers should be the Padres. Two of their bigger trading chips are closer Huston Street and outfielder Carlos Quentin -- but CBSSports.com's Jon Heyman reports the Padres will try to agree to contract extensions with the two. So the Padres aren't in full-on sell mode, but they do have one player who should be attracting tons of interest from any club without a star at the hot corner: Chase Headley.
More Eye on Baseball analysis
Headley is a 28-year-old third baseman who doesn't garner tons of national attention, but he's a damn good baseball player. Part of the reason he's underrated is that he plays for a terrible team. Part of it is that the Padres play in a smaller market. Another part? His batting average is an uninspiring .268. That stat still carries tons of weight on a mainstream scale, despite on-base percentage being a much better measure (seriously, should we exclude walks or instead count the number of times a player does not make an out? What makes more sense?). Headley works the count and takes enough walks to have an impressive .366 on-base percentage. Further, Headley doesn't have any glaring weakness.
Advanced metrics and the eye test both say Headley is a great defender. In addition to getting on base at a nice rate, he runs well and hits for power. Headley entered Thursday with 10 homers, 21 doubles and 10 stolen bases. Keep in mind where he plays half his games, too. Not shockingly, the pitchers' paradise that is Petco Park supresses Headley's power. He is slugging .356 with two home runs at home. On the road, Headley is slugging .497 with eight homers, giving him drastic splits and illustrating that a trade to even a neutral ballpark would be tantamount to setting him free and making him a potential 25-30 homer-a-year guy.
Sure, there are much sexier names floating around in rumors -- Upton, Greinke, Hamels, Victorino, Garza, Dempster, etc. -- but don't discount Headley. In terms of being an underhyped player acquired by a contender, he could amount to this season's position-player version of Doug Fister.