Is Mariano Rivera waffling on his promise to return?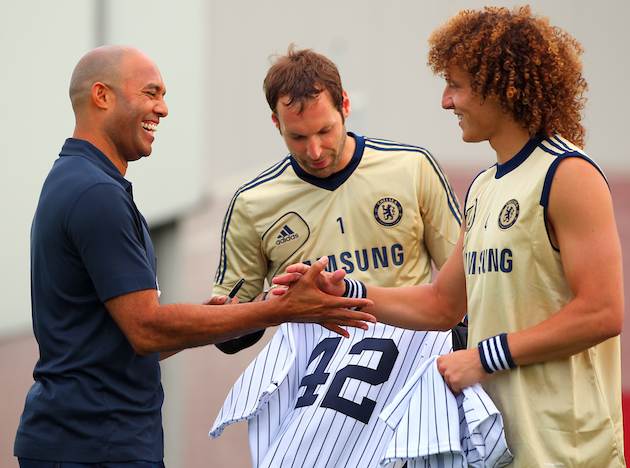 Yankees closer Mariano Rivera talks with Chelsea's Petr Cech (1) and David Luiz. (Associated Press)
Is Mariano Rivera coming back next season? His words gave some hints, but often the truth is in the eye of the beholder.
Rivera appeared Saturday at the practice of English soccer team Chelsea on Saturday before the team's game at Yankee Stadium on Sunday and spoke to reporters.
The New York Daily News wrote Rivera was having second thoughts about returning in 2013, while the New York Post's angle was that he was not rushing back for 2012.
The lead quote for the Daily News certainly strengthens its case:
"I don't even know if I want to play next year," Rivera said Saturday, according to the New York Daily News. "I don't know what tomorrow is going to bring. One day at a time."
That quote doesn't appear in the Post's story.
The guts of the story is that Rivera, 42, said he is rehabbing his injury every day and would love to be playing right now. Still, he said he doesn't have a timetable for his return and doesn't want to rush his rehab.
After he suffered a torn anterior cruciate ligament in his right knee in May, Rivera said he was coming back -- he wasn't quite so adamant on Saturday. Still, even the same statement can be read either way. Both stories had what is presumably the same quote, even though there's slightly different wording and interpretations.
"I love it," Rivera said. "I love the game. I love the competition. I love being on the field.

"Going out like that, to me, I won't take it. I want to go out on my own terms. Definitely. As a Christian you have to understand when the Lord is trying to tell you something. But I will do my part. The rest is out of my control."
The New York Daily News quoted him slightly differently:
"I want to go out on my own terms," Rivera said on Saturday. "But also as a Christian, you have to understand the Lord is trying to do tell you something. I will do my part, though."
His comments may be a Rorschach test of what you want to believe. Two reporters heard the same thing and believed the words meant two different things. What is certain is that Rivera's comments left his future open to interpretation, something he didn't do in May when he said he'd be back.
For more baseball news, rumors and analysis, follow @EyeOnBaseball on Twitter, subscribe to the RSS feed and "like" us on Facebook.