Deep rookie class in National League beyond Bryce Harper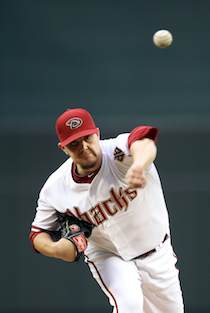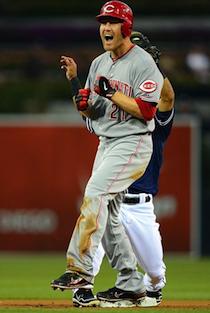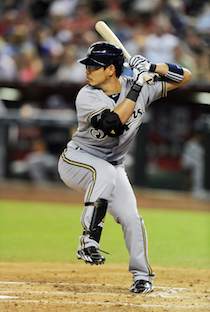 As Dayn noted in the Lineup, we had some pretty impressive big-league debuts on Thursday night, all, interestingly enough from the National League. While the American League Rookie of the Year Award has already been sent to the engravers with Mike Trout's name on it, the National League prize is still up for grabs.

Yes, there's a rookie in D.C. that's been pretty good, but Bryce Harper isn't the front-runner for the NL's version of the RoY right now. Sure, you'd take Harper before any of the other rookies on the list if you're starting a team and want a guy for the next five years, but the Rookie of the Year goes to the most outstanding performance by a player in their rookie year, that's a different question. Harper's having a great season -- a phenomenal one for a 19-year old -- but his .267/.339/.440 line and nine home runs aren't the best by a rookie batter.

So, for now, here's your Rookie of the Year candidates other than Harper (and not counting the likes of Starling Marte or Matt Harvey quite yet):

• Wade Miley, Diamondbacks -- Want good news if you're a Diamondbacks fan? The 25-year-old left-hander entered 2012 as the fifth-ranked Diamondback pitching prospect by Baseball America and third-ranked lefty. That's pretty impressive if they're right, because Miley is the front-runner for Rookie of the Year, going 11-6 with a 3.11 ERA so far this season. Miley was also named to the All-Star team. Last season he made seven starts for the Diamondbacks at the end of the season, helping the team overtake the Giants and make the playoffs. This year he's been better, cutting down on his walks dramatically and increasing his strikeout rate. Eventually Trevor Bauer, Archie Bradley, Tyler Skaggs and David Holmberg may be better than Miley, but this year no rookie in the NL has been better.

• Todd Frazier, Reds -- Since the Reds placed Joey Votto on the disabled list on July 7, the team has won eight of its nine games, and a big part of that has been Frazier filling in at first base (oh, and the schedulemakers giving them the Diamondbacks, Brewers and Astros), as he's hit .306/.333/.658 in that stretch. That's not that different than what he's been doing all season, though, as the former Little League World Series hero is hitting .283/.343/.529 with 10 home runs as a third baseman, first baseman, left fielder and DH. And on the days he's not starting -- he's been even more valuable, with six hits -- including four extra-base hits -- in 11 plate appearances as a pinch-hitter. His OPS as a pinch hitter is 1.836.

• Norichika Aoki, Brewers -- Aoki already has one Rookie of the Year award under his belt (he won Japan's Central League rookie award in 2005) and the three-time batting champ in Japan has fit in nicely in Milwaukee, where he's played all three outfield spots. Aoki's hitting .277/.350/.414.

• Wilin Rosario, Rockies -- Rosario has struggled behind the plate -- his nine errors and 12 passed balls lead all catchers in the National League -- but he's clubbed 16 home runs. While nine of those 16 home runs have come at Coors Field, he's actually hit better away from Denver, putting up a .281/.314/.563 line on the road and .223/.261/.509 at home. His .285 on-base percentage isn't pretty, but he brings some pop to the lineup and that has a lot of value from a catcher.

• Martin Maldonado, Brewers -- Milwaukee designated George Kottras for assignment this week because of how well the 25-year-old Maldanado has played in his time in Milwaukee. In 50 games, he's hitting .277/.321/.400.

• Matt Carpenter, Cardinals -- Few players who come up a first baseman have the type of versatility Carpenter has shown this season. In addition to first base, he's started games at second base, third base, left field and right field. He's also hitting .288/.353/.460 with three home runs.

There are plenty of others who are having good seasons that are either not eligible (Lance Lynn) or just haven't played enough (Anthony Rizzo, Andrelton Simmons and Micheal Fiers) to be in this mix yet. Regardless, there is a lot of young talent in baseball and that's worth getting excited about.

For more baseball news, rumors and analysis, follow @EyeOnBaseball on Twitter, subscribe to the RSS feed and "like" us on Facebook.