Zack Greinke traded to Angels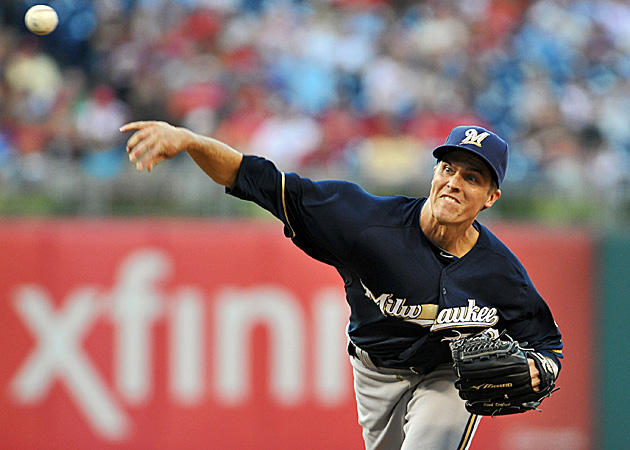 Greinke heads to the west coast, joining the already-strong Angels. (Getty Images)
Starting pitcher Zack Greinke has been traded from the Brewers to the Angels, the Brewers announced Friday night. They will receive shortstop Jean Segura and two Double-A pitchers in return.
Greinke, 28, is 9-3 with a 3.44 ERA, 1.20 WHIP and 122 strikeouts in 123 innings pitched so far this season. He won the AL Cy Young in 2009, when he was 16-8 with a 2.16 ERA, 1.07 WHIP and 242 strikeouts in 229 1/3 innings for the Royals.
This should be a win-win for Greinke and the Angels. People close to the Angels said Los Angeles was one of the places Greinke preferred to be sent, reports CBSSports.com insider Danny Knobler.
Adding Greinke to the rotation gives the Angels a scary looking potential postseason stable of starters. Jered Weaver is a bona fide ace. Slotting Greinke second means that C.J. Wilson is one of the best No. 3 starters in baseball. That means Dan Haren is a four. Sure, Haren's having an off-year, numbers wise, but he was also battling a back injury throughout much of the first half of the season. He's capable of returning to last season's form (16-10, 3.17) and he was very good in his first start back from the disabled list.
Greinke is set to be a free agent at the end of the season. A current seven-game losing streak has pushed the Brewers to 14 games back in the NL Central. That and the fact that the Brewers and Greinke were unable to agree on a long-term extension brought about the decision to trade him.
"We greatly appreciate Zack's contibutions to the Brewers," said Brewers general manager Doug Melvin. "He will be greatly missed on the field and in the clubhouse. We wish him nothing but the very best. We are also very excited about acquiring three good young players who are already on the 40-man roster. We look forward to them joining organization and their future contributions to the Brewers."
The Angels were able to get Greinke without giving up either pitcher Garrett Richards or outfielder Peter Bourjos, who were considered their two biggest trading chips.
Segura, 22, entered the season as a top-60 prospect in all of baseball. He spent 94 games in Double-A, hitting .294/.346/.404 with 10 doubles, five triples, seven homers and 33 stolen bases. He was promoted to the majors this past week, but has only had three plate appearances for the Angels.
The Double-A pitchers are John Hellweg and Ariel Pena. Hellweg, 23, is 5-10 with a 3.38 ERA, 1.38 WHIP and 88 strikeouts in 119 2/3 Double-A innings this year. Pena, 23, is 6-6 with a 2.99 ERA, 1.20 WHIP and 111 strikeouts in 114 1/3 innings.
The Rangers were in on the Greinke sweepstakes. After having lost out, they will turn their focus to James Shields, reports Knobler. The Braves and White Sox were also after Greinke, and it's unclear how they'll proceed from here.
For more baseball news, rumors and analysis, follow @EyeOnBaseball on Twitter, subscribe to the RSS feed and "like" us on Facebook.