Josh Hamilton now being booed by some Rangers fans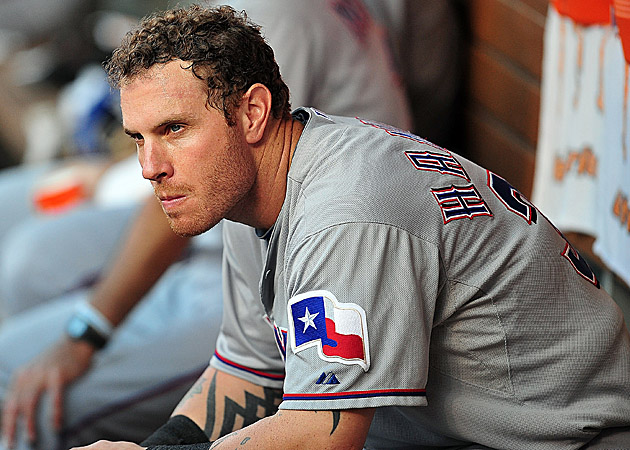 Hamilton's had quite the up-and-down season. (Getty Images)
What an incredible season of hills and valleys Josh Hamilton is experiencing, and it's still not even August.
Remember when Hamilton was doing an impression of Babe Ruth, Willie Mays and Hank Aaron combined? Through May 13, Hamilton was hitting .402/.455/.866 with 18 homers and 44 RBI in 32 games. He was definitely going to win MVP, there was talk of a nine-figure contract -- he's a free agent after this season, after all -- and he couldn't have been more popular in Arlington.
Since June 1, however, Hamilton is hitting .189/.276/.326 with seven homers and 26 RBI in 43 games. In those 43 games, he's struck out 55 times. Earlier this week, Rangers president Nolan Ryan called him out for giving away at-bats. And now some hometown fans are booing Hamilton.
"Yeah, I noticed but it's all about what have you done for me lately, no matter who you are," Hamilton told reporters (Foul Territory). "That's what it is. There are more fans that are still cheering and encouraging me than the ones that are booing. I pray for the ones that are [booing] and I appreciate the support of the other ones."
Hamilton later said "it's disappointing. It is. I'll leave it at that." (Foul Territory)
This might be a good time to remind the fans who are booing -- and it wasn't everyone in the stadium, so don't lump all Rangers fans in on this -- that the Rangers are still in first place. And while it definitely was not just Hamilton who spurred the turnaround, the Rangers have been to two World Series in the previous four years with Hamilton on the roster. Before he arrived, they had won zero playoff series in 36 years.
For more baseball news, rumors and analysis, follow @EyeOnBaseball on Twitter, subscribe to the RSS feed and "like" us on Facebook.