White Sox to temporarily shut down Chris Sale due to 'dead arm'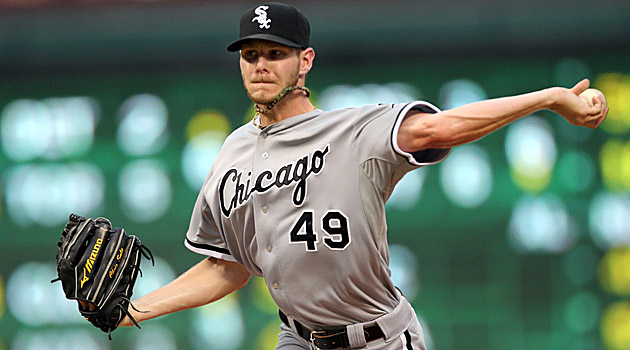 Sale has been shut down indefinitely. (Getty Images)
White Sox starting pitcher Chris Sale currently has no next scheduled start. After the White Sox acquired Francisco Liriano in a trade with the Twins, they have been left with six starters. And while it wouldn't be accurate to say Sale is the odd man out, he's going to be the one sitting out for the time being, due to a tired arm.
"Going through a little dead-arm period I guess," said Sale (chicagotribune.com). "Nothing terrible, nothing anyone else doesn't go through. We all feel this is something that's going to benefit us and benefit myself -- a few extra days off so the next couple months we can make a push and get after it."
Sale was previously scheduled to pitch Wednesday, but Jake Peavy has been moved back to Wednesday with Liriano being slotted into the rotation Tuesday. The White Sox haven't given any indication on when Sale might pitch again, though he's not being placed on the disabled list. Keeping that in mind, it seems doubtful he'll miss more than one or maybe two turns.
It isn't overly surprising that Sale's arm is fatigued. The 23-year-old lefty only threw 71 innings last season as a reliever. This is his first professional season as a starting pitcher and he's up to 124 innings pitched. His velocity has dipped of late, too.
Sale made his first All-Star team this season and is 12-3 with a 2.61 ERA, 1.02 WHIP and 114 strikeouts.