New World Series odds released, West coast teams rising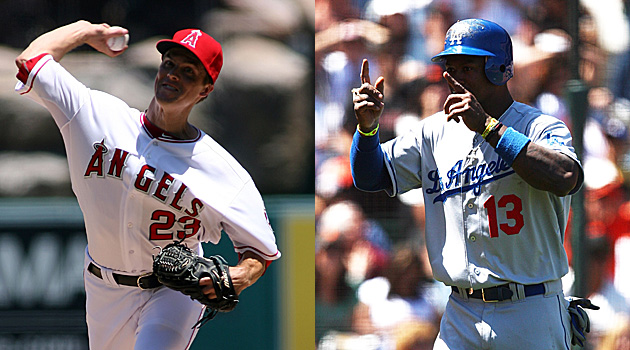 Greinke and Ramirez helped increase the World Series odds of their respective new ballclubs. (Getty Images)
The latest odds to win the World Series have been updated by Bovada.lv, in light of the moves made prior to the July 31 non-waiver trade deadline. The biggest upward movers were the big-name teams from the West coast, with the Angels going from 10/1 to 15/2, the Dodgers jumping from 22/1 to to 14/1 and the Giants moving from 15/1 to 12/1.
The Yankees and Rangers still remain at the top.
One thing to keep in mind with odds: They aren't predictions. The reason bookmakers make money is they maximize the action across the board. So if the most money is bet on the Yankees, of course they're going to have the best odds -- even if they don't have the best team (which they very well might).
So before you go complaining about a lack of respect (A's fans!) due to poor odds, maybe find a place to legally wager on your favorite team. Just a thought.
Current odds to win the World Series
New York Yankees 19/4
Texas Rangers 5/1
Los Angeles Angels 15/2
Washington Nationals 9/1
Cincinnati Reds 10/1
Detroit Tigers 10/1
San Francisco Giants 12/1
Atlanta Braves 14/1
Los Angeles Dodgers 14/1
Chicago White Sox 20/1
St. Louis Cardinals 22/1
Boston Red Sox 25/1
Pittsburgh Pirates 25/1
Tampa Bay Rays 25/1
Oakland Athletics 35/1
Arizona Diamondbacks 45/1
Toronto Blue Jays 45/1
Baltimore Orioles 55/1
Cleveland Indians 75/1
Philadelphia Phillies 75/1
Miami Marlins 90/1
New York Mets 100/1
Milwaukee Brewers 225/1
Minnesota Twins 500/1
Seattle Mariners 500/1
Kansas City Royals 600/1
Chicago Cubs 750/1
San Diego Padres 750/1
Colorado Rockies 1000/1
Houston Astros 1000/1
My biggest takeaway? What a complete ripoff the odds are for the Rockies and Astros. They should clearly be like 100,000/1.