Photos: Omaha Storm Chasers wear organ jerseys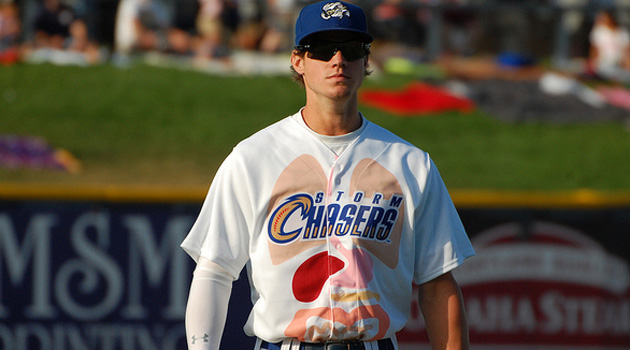 Wil Myers sports the organ jersey. (Minda Haas)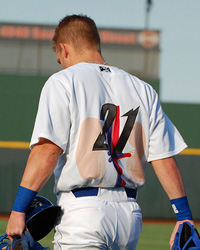 Here's a view of the back. (Minda Haas)
The Omaha Storm Chasers are the Kansas City Royals' Triple-A affiliate. And to raise awareness for organ donations, they are rolling with some pretty odd uniforms.
Yes, as you can see on the chest/stomach of big-time prospect Wil Myers above, those are organ uniforms. We've got the lungs, heart, liver, colon, intestines and pancreas -- I think. There may be more in there, but I was usually far too concerned with sports to pay much attention in anatomy class.
Though these unis are kinda freaky -- or maybe really freaky -- they are yet another example of how quirky minor-league baseball can be. So, yeah, I support it. I'm already an organ donor, but consider this blog post my means of furthering the Storm Chasers' cause.
Minda Haas has a photo gallery over on her blog, Royal Blues, including more than just these two pictures. I highly recommend a trip over there to see the larger, higher-resolution photos she took.
For more baseball news, rumors and analysis, follow @EyeOnBaseball on Twitter, subscribe to the RSS feed and "like" us on Facebook.