Giants to stick with closer-by-committee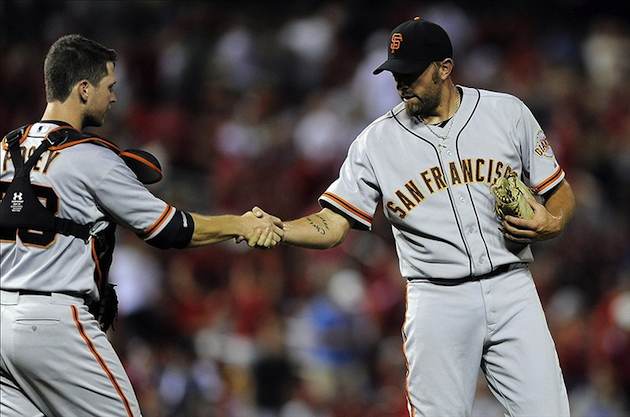 Jeremy Affeldt picked up his third save of the season on Tuesday. (US Presswire)
Bruce Bochy isn't going to win many friends in fantasy leagues, but the stat guys may like him as the Giants manager told his relievers the team would be going with a bullpen-by-committee down the stretch.

He backed that up on Tuesday, at least, using right-handed Sergio Romo to face the Cardinals' switch-hitting Carlos Beltran, right-handed hitting David Freese and Yadier Molina. After Molina's double, Bochy brought in lefty Jeremy Affeldt to face left-handed hitting Jon Jay. Affeldt stayed in the game for the ninth inning, where he faced switch-hitting Rafeal Furcal and left-handed hitting Matt Carpenter and Daniel Descalso. Affeldt gave up a single to Furcal, but got a double play and strikeout to record his third save of the season.

Affeldt, who previously expressed doubts about a closer-by-committee, said he's fine with the approach now after Bochy and pitching coach Dave Righetti met with the relievers.

"I think Boch and Rags both said it pretty good," Affeldt told CSNBayArea.com. "They said, 'Look, this is what we have to do. We believe in you guys. We know what we have to do. We believe in you guys. We know what can happen in these situations, but we have a lot of faith that this bullpen can do it.'

"When you're addressed like that, you want to go out and back them up. You say, 'If this is what it isn, let's do it."

Brian Wilson underwent Tommy John surgery in April after just two appearances, while Sergio Casilla's struggled as of late. Casilla converted 19 of his first 20 saves, but has a 7.82 ERA over his last 17 appearances. A total of six Giants have recorded saves this season -- Casilla (24), Romo (5), Affeldt (3), Clay Hensley (2), Javier Lopez (1) and Wilson.

"When we get down to the last six outs, it'll be Romo and Affeldt and Lopez, and if they need a break, it'll be the other guys," Bochy said, according to CSNBayArea.com.

For more baseball news, rumors and analysis, follow @EyeOnBaseball on Twitter, subscribe to the RSS feed and "like" us on Facebook.