MLB Postseason schedule released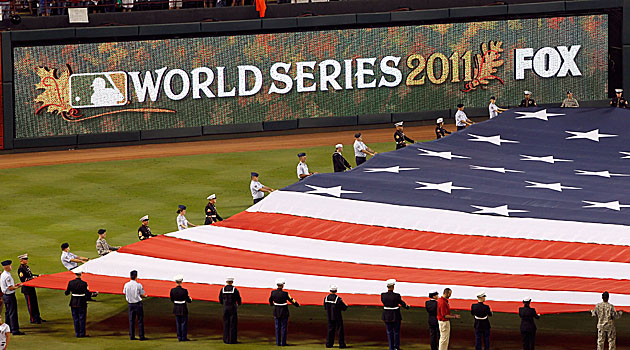 Game 1 of the World Series will be October 24 this season. (Getty Images)
Major League Baseball has released its postseason schedule in a press release. Here are the items that most stood out:
• The two wild-card games will be played Friday, October 5. The conclusion of the regular season is October 3. The winners of the wild-card games will then advance to square off against the team with the best record in each respective league, Game 1 coming on Sunday, October 7. So, yes, the team with the best record in each league will be waiting to play from October 3 to October 7. I wonder about a break in rhythm, though those two teams will obviously be able to set their pitching rotation however they wish.
• Remember, just for this season, the LDS round is a 2-3 format, meaning the lower-seeded team plays two home games before the higher-seeded team gets (up to) three home games to conclude the series. Next season, the 2-2-1 format will return.
• The ALCS is scheduled to begin on Saturday, October 13. If the ALDS with the top division winner and wild-card winner goes the distance, Game 5 will be Friday, October 12. So it's possible a team has to travel that night and turn around to play Game 1 of the ALCS with no rest. That is, if the wild-card team wins the series in five.
Here's the full schedule (dates only, times haven't yet been released)
AL wild-card game: October 5
NL wild-card game: October 5
ALDS A and NLDS A (division winners No. 2 and No. 3)
Game 1: October 6
Game 2: October 7
Game 3: October 9
Game 4: October 10*
Game 5: October 11*
ALDS B and NLDS B (top division winner vs. wild-card winner)
Game 1: October 7
Game 2: October 8
Game 3: October 10
Game 4: October 11*
Game 5: October 12*
ALCS
Game 1: October 13
Game 2: October 14
Game 3: October 16
Game 4: October 17
Game 5: October 18
Game 6: October 20
Game 7: October 21
NLCS
Game 1: October 14
Game 2: October 15
Game 3: October 17
Game 4: October 18
Game 5: October 19
Game 6: October 21
Game 7: October 22
World Series
Game 1: October 24
Game 2: October 25
Game 3: October 27
Game 4: October 28
Game 5: October 29
Game 6: October 31
Game 7: November 1
* - If necessary
For more baseball news, rumors and analysis, follow @EyeOnBaseball on Twitter, subscribe to the RSS feed and "like" us on Facebook.