The Lineup: Derek Jeter ties Hank Aaron, Padres streaking at PNC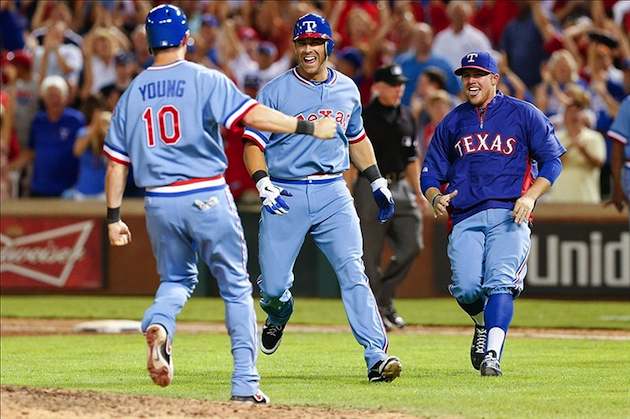 Mike Olt was the Rangers' hero on Saturday. (US Presswire)


Thanks to Mike Olt's RBI single in the 9th, the Rangers beat the Tigers and kept the White Sox in first place in the AL Central. Meanwhile, Pittsburgh is suddenly struggling and the Padres are surging.

Full Saturday scoreboard with box scores and recaps for all games




3 UP

Derek Jeter, Yankees: Jeter picked up his 150th hit of the season on a sixth-inning ground-rule double, tying Hank Aaron for the most consecutive seasons with at least 150 hits at 17. Aaron is third on the all-time hit list at 3,771. Jeter has 3,238, the 14th most in big-league history.

Jason Marquis, Padres: The 33-year-old Marquis took a no-hitter into the 7th before Travis Snider led off the inning with a single. Marquis allowed just one more hit -- a single to Pedro Alvarez in the eighth. Marquis walked just one and struck out four -- all four coming in succession when he struck out Josh Harrison to end the second and then struck out Rod Barajas, A.J. Burnett and Starlin Marte in the third inning. It was Marquis' fifth career shutout.

Brent Lillibridge, Indians: Lillibridge wasn't a Red Sox long, but it still had to be nice for him to play a key role in the downing of his former squad on Saturday. Lillibridge fell a triple short of the cycle, hitting his first home run since Aug. 31, 2011, in the third inning. He added an RBI single in the fifth to plate the tying run. After his seventh-inning double, he scored an insurance run on a squeeze play. His three hits on Saturday were one more than he had in 10 games for the Red Sox.

3 DOWN

Johan Santana, Mets: A lot has been made of former Met Philip Humber's struggles since his perfect game, Santana's not been so good since his no-hitter, either. In nine starts since he tossed the first no-hitter in Mets history on June 1, Santana is 3-6 with a 7.97 ERA. He didn't help that on Saturday. In his first start since missing three weeks with a sprained ankle, Santana gave up eight runs on eight hits in 1 1/3 innings in a loss to the Braves.

Rockies starters: It's not fair to pin this thumbs down solely on Drew Pomeranz, he just did what Rockies pitcher have done all season long. In Saturday's game against the Giants, he lasted just four innings, marking his third start in a row that he lasted just four innings. This season, the Rockies have had 33 of their 111 starts last four innings or less. The Giants scored four runs on six hits in Pomeranz's 73-pitch outing.

Diamondbacks defense: Three Diamondback errors led to runs in Arizona's 6-5 loss to the Nationals. In the first inning, right fielder Justin Upton let a ball go under his glove, allowing Danny Espinosa to score. In the Nationals' five-run fifth, third baseman Chris Johnson had a fielding error and catcher Miguel Montero had a throwing error. It was the second straight start for Miley that his defense committed three errors behind him.








Double-digit winners: The Rays-Twins matchup features two pitchers who have 10 wins so far this season. It's no surprise that Tampa Bay's James Shields has 10 wins, but lesser known is Twins lefty Scott Diamond. The Canadian Diamond is 10-5 with a 2.91 ERA this season. Diamond is one of two undrafted pitchers signed by the Braves after the 2008 draft that have already made the big leagues, along with Atlanta's Brandon Beachy.

Sweeping again: The Padres are looking for their seventh straight win and second series straight series sweep Sunday in Pittsburgh. The Padres have won 11 straight at PNC Park and 14 of the last 17 overall against the Pirates. Ross Ohlendorf, the former Pirate, is 9-13 with a 3.93 ERA in his career at PNC Park. This season he's been a different pitcher at home and on the road. In five games (and three starts) at Petco Park, he's 2-0 with a 2.61 ERA. In six games (and four starts) away from Petco, he's 2-2 with a 8.34 ERA. He's never started against his former squad, but did have a scoreless relief appearance against them in 2008 when he was a member of the Yankees before being traded to the Pirates near the trade deadline that season.

Bounceback: Giants left-hander Barry Zito has a chance to record his first 10-win season since 2009. Zito is 9-8 with a 4.19 ERA and is 6-2 with a 2.39 ERA in 18 appearances against the Rockies in his career. He hasn't lost to the Rockies since 2008 and is 3-1 with a 1.67 ERA in eight starts against Colorado at AT&T Park.

Sunday's probables for all games




• Bullpen arms to rotation: The Royals have this revolutionary idea that their best pitchers should pitch the most innings. So, the team will look to their bullpen in the epic search for starting pitching. [Kansas City Star]

• New-look Sox? The White Sox could look like a whole different team in 2013. A.J. Pierzynski and Francisco Liriano will be free agents, while Jake Peavy, Gavin Floyd, Kevin Youkilis and Brett Myers all have club options of $9.5 million or more -- including Peavy's $22 million option. For their part, the White Sox say they're solely focused on 2012. [Chicago Sun-Times]

• Toxicity levels on the rise: Former big-league pitcher Dirk Hayhurst writes this time of year can be dangerous for the long-term success of a non-contending club. Veterans set the tone, and the wrong tone can have repercussions for years to come.

• Scooter rides: Monday will mark the fifth anniversary of Phil Rizzuto's death. The New York Daily News has a great story about a group of kids in the 70s who got rides to and from games with Rizzuto.

• Hall of Fame doctor: The Hall of Fame's Expansion Era Committee considers players who weren't voted in by the BBWAA, managers, umpires and executives, there's not a real category for innovators from other areas. Perhaps the Baseball Hall of Fame could find a place for perhaps the man who has had a bigger impact on the game than anyone other individual in the last 36 years -- Dr. Frank Jobe. Jobe pioneered what has become known as Tommy John surgery, which has saved hundreds of careers since 1975, including John's. Someone has started a petition to have him honored by Cooperstown.

For more baseball news, rumors and analysis, follow @EyeOnBaseball on Twitter, subscribe to the RSS feed and "like" us on Facebook.