The Lineup: Steve Delabar's moment to shine; Rays on fire with active Longoria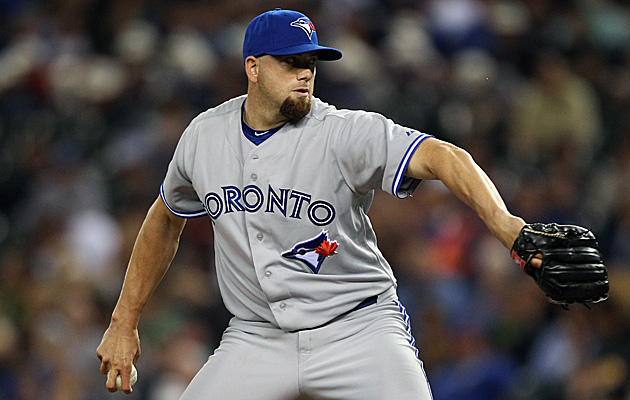 He's so obscure there were no available pictures from Monday night. (Getty Images)


The Rays are streaking, the Tigers and Angels are disappointing and several matchups could be playoff previews. Let's check out the action we saw Monday night in baseball.
Full Monday scoreboard with box scores and recaps for every game








3 UP

Steve Delabar, Blue Jays: Yes, an obscure relief pitcher has made the top of the list. Delabar went to the Blue Jays July 30 in exchange for Eric Thames. Monday, he gets his time in the spotlight. Delabar worked two innings, facing seven hitters and retiring them all. He struck out six, including four in the 10th inning (Tyler Flowers reached first base on a strikeout-passed ball, hence Delabar having to get four outs). Via Major League Baseball, this was the first time in MLB history that someone struck out four batters in an inning in extra innings. And then, due to a timely walk-off single from David Cooper, Delabar took himself home the win.

Cole Hamels, Phillies: Hamels threw a shutout, meaning he's now done so in two consecutive outings. Prior to these two, he only had four shutouts in his career and none since 2009.

Nick Swisher/Derek Lowe, Yankees: Yankees vs. Rangers is a definite battle of the titans, and the Bronx Bombers took the first game of the series, largely due to these two individuals. Swisher hit a grand slam -- his 200th career homer -- to put the Yankees up 4-2 and they never looked back. Lowe, meanwhile, made his Yankees debut and pitched four nearly spotless innings. He only gave up two hits while striking out four and finishing the game, qualifying for a save. Oh, and the Yankees have won five of their last six.

3 DOWN

The San Francisco Giants: Oh, the humanity. It was 14-0 Nationals in the fifth inning. Ryan Vogelsong was destroyed in a rare flop of an outing, but Brad Penny was actually worse in relief.

Mike Fiers, Brewers: So much for that sub-2.00 ERA. Fiers entered the game as one of the feel-good stories in the NL Central this season. Monday night was a debacle. Yes, it was in Colorado, but the Rockies are terrible. Fiers only survived for two innings, giving up nine hits and eight earned runs. His ERA went from 1.80 to 2.63 in one fell swoop.

Anibal Sanchez, Tigers: He coughed up 12 hits and five earned runs in 5 1/3 innings against the Twins, and the unbelievably inconsistent Tigers lost their third straight. Sanchez is now 1-3 with an 8.41 ERA since the Tigers acquired him in late July.








Longo's Rays: The Rays have now won seven in a row and the streak coincided with the return of Evan Longoria from injury. The Rays are 21-8 in games Longoria has played this season and 42-44 without him -- note that they actually helped their non-Longoria record Monday night, as he was rested. Still, they rarely lose when he's active, even if it's simply a coincidence. They'll look to continue the trend Tuesday with Longoria back in the lineup. It's Matt Moore (9-7, 3.73) squaring off against Kevin Millwood (4-10, 4.38). 10:10 p.m. ET

Giant rebound? The Giants were thoroughly embarrassed Monday night at home by the Nationals, but it was only one game. The Giants are still tied for first place in the NL West. The great thing about baseball is that teams only have to wait one day (most of the time) to get things back on track. Tuesday, it'll be Madison Bumgarner (12-7, 3.08) starting for the Giants in a game that also marks Pablo Sandoval's return to the starting lineup. Of course, it won't be easy. The Nationals sport the best record in the majors (71-44) and will start sneaky Cy Young candidate Jordan Zimmermann (9-6, 2.35). 10:15 p.m. ET

Which Tigers are you? So are these the Tigers that started 9-3 or went 30-39 from April 15-July 3? Are they the Tigers that then won 13 of 15 or lost six of eight after that? Are they the team that then won six in a row, or the one that has now lost five of six? The inconsistency is mind-boggling. Anyway, it'll be Doug Fister (6-7, 3.48) against Brian Duensing (2-7, 4.46) and the Twins Tuesday. 8:10 p.m. ET
Tuesday's probable pitchers








• Single City: On Sunday, the Omaha Storm Chasers won 20-3 over the Tuscon Padres. The Storm Chasers had 33 hits, of which a whopping 26 knocks were singles. (utsandiego.com)

• Look, look ... it's Super Halo Woman! Sonia Sebastiano is a huge Angels fan, and she is also now known as Super Halo Woman around Angel Stadium. She has a cool, superhero-looking outfit and everything. (ocregister.com).

• On the other hand ... There's an Orioles fan who has been wearing wrestling masks and tights to every game. In shirtless fashion. I wish I were kidding. Big League Stew has the photo evidence of the "Carne Cabeza."

• Have $38 million laying around? If so, you can buy Alex Rodriguez's mansion in Miami. It's a nine-bedroom, 11-bathroom home, if that's your sort of thing. This is interesting as well: A-Rod bought it back in 2010 for $24 million, so if he gets his asking price, he'll swing a hefty profit. (nydailynews.com)

• Prospect prospecting: Do you love watching prospects play in the minors? Fangraphs.com has put together the top five areas for watching prospects play -- with maps and everything. No. 1? Along I-40 in North Carolina, which boasts five minor-league teams at various levels.

For more baseball news, rumors and analysis, follow @EyeOnBaseball on Twitter, subscribe to the RSS feed and "like" us on Facebook.