A.J. Burnett isn't impressed with Hanley Ramirez's home run celebration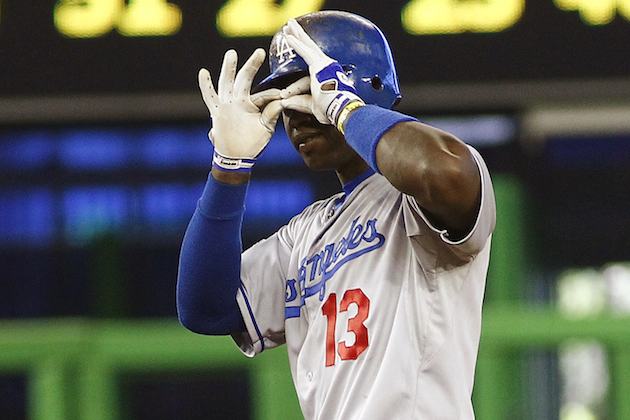 This is what Hanley Ramirez does after home runs. A.J. Burnett is not a fan of the gesture. (Associated Press)
If the season ended today, the Pirates and Dodgers would both be in the playoffs, although the Pirates would need to get through two other teams before possibly facing Los Angeles. Still, a future matchup of A.J. Burnett and Hanley Ramirez got a little more interesting after Thursday's game.

What happened was this -- Ramirez hit a a two-run homer off of Burnett in the fourth inning and as he rounded the bases, he did that silly little thing where he makes circles with his fingers around his eyes (as seen above) and did it in the general direction of the Pittsburgh pitcher.

In Ramirez's next at-bat, Burnett got him swinging to end the sixth inning and Burnett screamed at him as he left the mound. It was easy to read his lips, as he screamed, "Sit the [expletive] down!"

Watch:



Afterward, Burnett told reporters (via the Associated Press): "If you're going to hit a homer, act like you've hit one before. The first batter, [James] Loney, hit one, was very professional about it. Ran hard the whole way. I just thought he did a little something at second base. I could be wrong. It was the heat of the moment."

About the strikeout, Burnett said, "I was just excited to get him out. Every time someone clicks one off you, you want to get him out the next time up. He drove that one pretty far, and then I was able to get him out so I was pretty fired up."

Ramirez was reprimanded by home plate Angel Campos for throwing his bat, but was not ejected -- a seeming rarity for Dodgers on Thursday.

The Pirates don't face the Dodgers again this season, but because both teams are in the playoff race, we could get a repeat of this matchup with even more on the line.
For more baseball news, rumors and analysis, follow @EyeOnBaseball on Twitter, subscribe to the RSS feed and "like" us on Facebook.