Report: MLB sniffs out Melky Cabrera's scheme to avoid suspension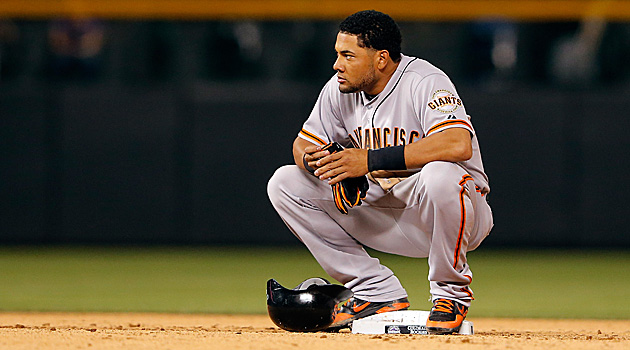 Cabrera's season has turned from dream to nightmare. (Getty Images)
Melky Cabrera's 50-game suspension for elevated testosterone levels and the drama surrounding it have suddenly taken a turn into the incredibly weird.
According to a report in the New York Daily News, the Giants outfielder created a fake website which featured ads for a fake product in hopes it would exonerate him. The plan was reportedly to say that Cabrera had ordered a legal supplement from the website and say that the product accidentally raised his testosterone levels too high. The story fell apart, though, and now Cabrera and some of his representatives are under investigation, according to the Daily News:
Famed steroid cop Jeff Novitzky, a criminal investigative agent for the Food & Drug Administration, and agents from MLB's Department of Investigation have begun looking into Cabrera's associates and his entourage, including trainers, handlers and agents, as they search for the source of the synthetic testosterone that appeared in a sample of the All-Star Game MVP's urine.

The scheme began unfolding in July as Cabrera and his representatives scrambled to explain a spike in the former Yankee's testosterone levels. Cabrera associate Juan Nunez, described by the player's agents, Seth and Sam Levinson, as a "paid consultant" of their firm but not an "employee," is alleged to have paid $10,000 to acquire the phony website. The idea, apparently, was to lay a trail of digital breadcrumbs suggesting Cabrera had ordered a supplement that ended up causing the positive test, and to rely on a clause in the collectively bargained drug program that allows a player who has tested positive to attempt to prove he ingested a banned substance through no fault of his own.
The plan didn't work, as Cabrera and his people seem to have been caught in their own web of lies. The Daily News story notes that MLB was onto the plan quite quickly. Nunez has since accepted full responsibility, and specifically said Cabrera's agents weren't in on the ruse.
"I was the only one who had dealings with the website," Nunez said. "Neither Seth nor Sam had any dealings with the website, nor did anyone else in the firm."
This situation is obviously a mess for Cabrera. He was set to be a free agent at the end of the season and was having a career year, hitting .346/.390/.516 with 25 doubles, 10 triples, 11 homers, 60 RBI, 13 steals and an NL-best 159 hits. Though it's still a wee bit early to speculate, he had legitimate MVP aspirations. He already won the All-Star Game MVP, too.
Now, instead of getting ready to sign the biggest contract of his career, he's being investigated by the FDA, Major League Baseball and possibly, at some point, even the DEA.
It's gone from dream to nightmare for the 28 year old.
For more baseball news, rumors and analysis, follow @EyeOnBaseball on Twitter, subscribe to the RSS feed and "like" us on Facebook.