Greinke-Moore duel a microcosm for direction of Angels, Rays rotations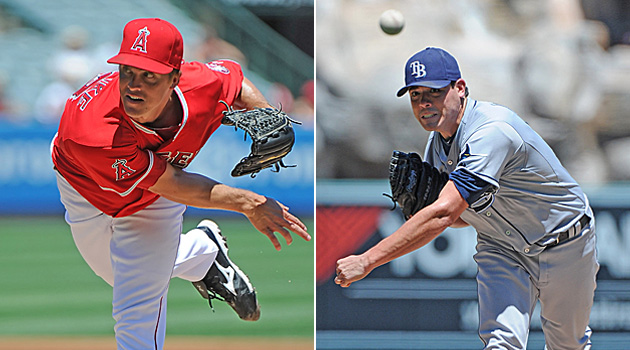 Greinke's Angels and Moore's Rays appear headed in different directions. (Getty Images)
Thursday afternoon, the Angels and Rays were preparing for a four-game series with big-time playoff implications. The Rays were holding onto the second wild-card spot and the Angels trailed them by 1.5 games. Four games later, the Rays now hold the top wild-card slot while the Angels trail the Orioles by 4.5 games for the second spot -- with two teams to leapfrog.
In Sunday's series finale, the Rays completed their four-game sweep behind the arm of rookie pitcher Matt Moore, with some help from Angels' starter Zack Greinke. The contrast in the two outings pretty well sums up the direction of the teams and, more specifically, the starting rotations.
Moore is 3-0 with a 1.46 ERA and 26 strikeouts in 24 2/3 innings in his four August starts. He's simply continuing his trend of being very reliable, too, as he is 9-3 with a 2.78 ERA in his last 15 starts. But let's stick with the Rays rotation in August.
In 17 games this month, the Rays' starting rotation is 11-2 with a 2.60 ERA and 1.07 WHIP. They have 87 strikeouts and 25 walks in 107 1/3 innings, an average of 6 1/3 innings per start. That's close to the line of an ace, and it's being put up by an entire rotation.
Meanwhile, Greinke is 1-2 with a 6.19 ERA and 1.59 WHIP since joining the Angels. In 32 innings, he's coughed up 38 hits, 13 walks, two hit batsmen and two wild pitches.
And he's not alone in Anaheim. In August, Angels' starters are 3-7 with a 6.51 ERA and 1.50 WHIP. The bullpen has been bad, too, so the average of 5 2/3 innings per start isn't nearly good enough. Not surprisingly, the Angels have only won one series this month, and that came against the debacle that the Indians have become.
Add it all up, and it's pretty easy to see why the Rays just outscored the Angels 37-14 in a four-game sweep. The season for each club with legitimate playoff aspirations is headed in a different direction. The Rays are now closer to the Yankees than they are the Angels, and the Angels are now more than a series out of a playoff spot and nine behind the Rangers in the AL West.
If the respective starting rotations continue on this path, expect things to get better for the Rays and worse for the Angels. Down the stretch, it's all about the pitching.
For more baseball news, rumors and analysis, follow @EyeOnBaseball on Twitter, subscribe to the RSS feed and "like" us on Facebook.