Bryce Harper may be heating up again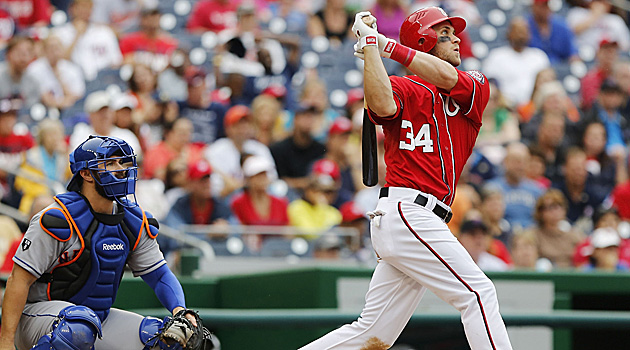 Harper may be heating back up. (Getty Images)
Is 19-year-old phenom Bryce Harper on the verge of another hot streak? It's definitely a question worth asking after Harper went 4-for-7 with a triple, two homers, four RBI and four runs in his two starts against the Mets last series.
Harper was once among the hottest topics in baseball. After another big game on June 12, the prodigy was hitting .307/.390/.553 with eight doubles, four triples, seven homers, 19 RBI and 30 runs in just 40 games.
His numbers then saw a bit of a dip, which was only natural at that point in his career, but he headed to the All-Star break with a very solid triple slash line of .282/.354/.472. Post-break, though, adversity truly hit for the first time in his big-league career.
From July 13 to August 12, Harper hit a putrid .174/.270/.257. Had this been the beginning of his big-league career, there would have been a mass freakout about how the Nationals "rushed" him to the majors. He was posting the line of a good-hitting pitcher or a poor-hitting backup catcher. Harper collected two hits August 13, but then went 0-for-8 over his next two games. So it's larger samples of peaks and valleys with smaller samples of peaks and valleys sprinkled in.
Keep in mind he's only a kid. Remember what we were like at 19? Think of all the emotional immaturity in most people. Harper's trying to play under the pressure of national spotlight and a major-league pennant race against a bunch of adults. Mike Trout was 19 last season and he hit .220 in 40 games. This year he's Superman reincarnate. Harper has enough talent to reach that level, too.
So even if it's a small sample of two straight starts, any sign of a peak from someone with Harper's ability cannot be ignored -- he's liable to build it into a large-sample peak.
For more baseball news, rumors and analysis, follow @EyeOnBaseball on Twitter, subscribe to the RSS feed and "like" us on Facebook.