Aaron Hill's strong 'season' in Arizona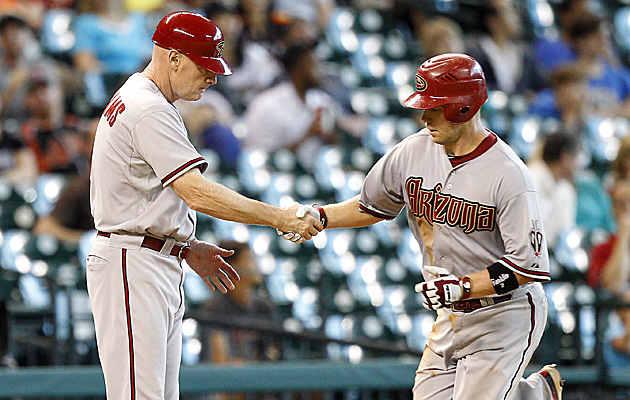 Hill has put together a very strong "season" for the D-Backs. (Getty Images)
This coming Thursday marks the one-year anniversary of the trade that sent Aaron Hill -- along with slick-fielding John McDonald -- the Diamondbacks in exchange for Kelly Johnson. Hill celebrated his upcoming first anniversary by going nuts this past weekend against the hapless Astros.
In the three-game sweep, Hill went 7-for-12 with two doubles, three homers, five RBI and six runs. Not that this type of gaudy stat-line is a rarity for Hill in Arizona. It's not. He's been great for Arizona since the trade.
More from Eye on Baseball
Hill has now played just about a full season in his new home. He's accumulated 629 plate appearances in 149 games for the Diamondbacks. From that perspective, he's had a great "season." He's hitting .302/.360/.500 with 19 homers, 70 RBI, 87 runs, 42 doubles, seven triples and 14 stolen bases in a Diamondback uniform. A line like this puts Hill among the best second basemen in baseball.
This season, only perennial MVP candidate Robinson Cano has a better WAR (Fangraphs version) among second basemen. Hill's value to the Diamondbacks certainly cannot be underestimated, especially considering the down year from last season's MVP candidate, Justin Upton.
Though Arizona has lingered in the background of the NL West race throughout this season, it's still right there. The D-Backs bring a four-game winning streak into the week and trail the Dodgers by 4.5 games. While the Dodgers and second-place Giants play each other to begin this week, the Diamondbacks return home for a four-game series against the last-place Marlins. This weekend, the D-Backs host the fourth-place Padres for three games. It's the perfect time to carve even more into that margin.
So don't count Arizona out. If they do make another playoff run, Aaron Hill will be right in the midst of all the action, just as he has been for the past "season."