A's could have sneaky-strong postseason pitching staff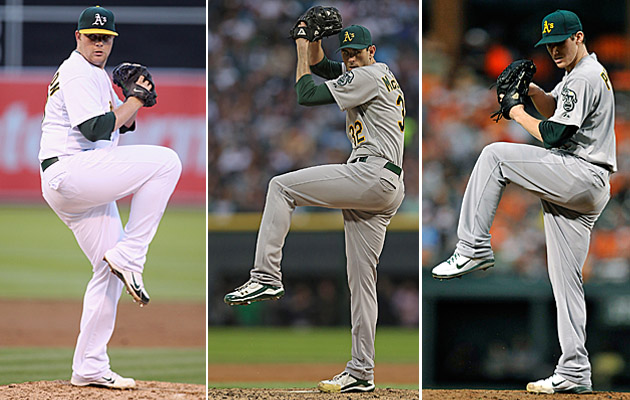 Anderson, McCarthy and Parker could form the type of strong top three that wins playoff series. (Getty/US Presswire)
If the playoffs started Tuesday, the upstart A's would miss out on the second wild-card spot by a half-game, but here's the thing: The playoffs don't start for another six-plus weeks. With the A's right in the mix -- coolstandings.com has them with a 50.7 percent chance of making the playoffs -- and the return of Brett Anderson to the hill Tuesday night, I can't help but think ahead to what could be a solid, albeit very unheralded, playoff rotation.
To date, the A's starting rotation hasn't been pretty good. Heading into Tuesday, A's starters have a 3.83 ERA and 1.27 WHIP on the season. Again, pretty good, but there's room for improvement from a squad eyeing the postseason.
Enter Anderson, a 24-year-old lefty with big upside. He was one of baseball's top 10 prospects before promotion to the bigs. In 2010, he had a 2.80 ERA and 1.19 WHIP in 112 1/3 innings. In his first 11 starts last season, Anderson sported a 2.84 ERA. He was shelled in his last two starts before undergoing Tommy John surgery, but now he's worked his way back.
It may take some time before he works back into form but, again, the playoffs don't start for six weeks. If the A's make it, it's reasonable to believe Anderson will be a very reliable postseason starter. In fact, he'd make a fine Game 2 starter between two right-handers.
Jarrod Parker, Bartolo Colon and Brandon McCarthy (disastrous Monday night outing notwithstanding) would be the most likely righties in the mix, but there are several options for the pitching-rich A's. A.J. Griffin is starting a minor-league rehab assignment Wednesday and strikeout-machine prospect Dan Straily was shipped back to Triple-A to make room for Anderson. Any of these would be quality arms come October, even if none are household names.
UPDATE: Colon is done with a PED-related suspension, but Anderson's outing Tuesday night was awesome. Griffin or Straily will have to fill Colon's spot, and both are capable.
Without a name like Halladay or Weaver or Verlander or Sabathia or Kershaw, this bunch isn't overly sexy, but it's potentially a sneaky-strong group that would keep the A's close enough in the postseason to pull off several of their late-inning comebacks.
For more baseball news, rumors and analysis, follow @EyeOnBaseball on Twitter, subscribe to the RSS feed and "like" us on Facebook.