Derek Jeter says accuser 'should be tested'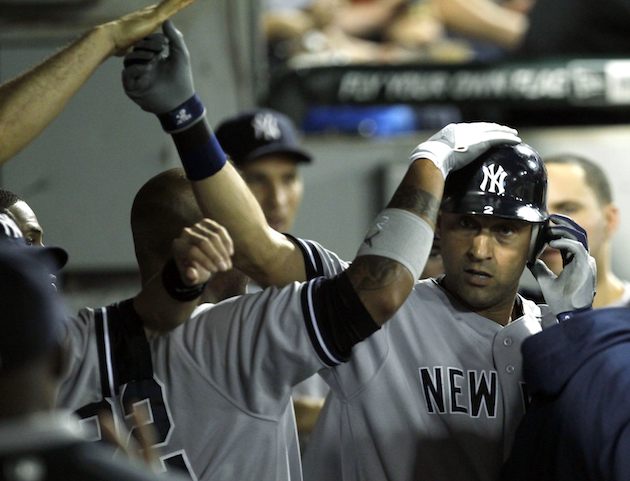 Derek Jeter hit his 13th home run of the season on Wednesday. (Associated Press)
Derek Jeter laughed off a suggestion from ESPN's Skip Bayless that the Yankees shortstop has been using performance-enhancing drugs.
"What do you want me to say?" Jeter told reporters when asked about Bayless' comments (via ESPNNewYork.com). "Maybe Skip should be tested. I don't know him, but…"
On Wednesday, Bayless said, "You would have to have your head in the sand or your head somewhere else not to at least wonder, 'How is he doing this?'" Bayless also brought up Victor Conte's recent statement that more than half the players in baseball are using PEDs.
"I would have to be sight- and hearing-impaired not to at least wonder, because there is no HGH test in the sport of baseball," Bayless said. "They do not blood test; they do it one time in spring training for HGH, not again the rest of the year. How could I not wonder, 'Is he using something?' If you're Derek Jeter, would you think about using HGH right now? Because I would. How would you not? Would you not think about it."
According to the New York Daily News, Jeter laughed at the comments.
"I ain't getting involved with this, man," Jeter said (via the Daily News). "You can say whatever you want to say now, huh? There's no repercussions."
He's right. There's no repercussions, yet the likes of Bayless are still employed and get ratings, so he'll be allowed -- and even encouraged -- to keep up some inane ramblings. If you keep watching him, you're giving him what he wants (and so am I by regurgitating his irresponsible diatribes).
For more baseball news, rumors and analysis, follow @EyeOnBaseball on Twitter, subscribe to the RSS feed and "like" us on Facebook.