Seattle Mariners: Playoff contender?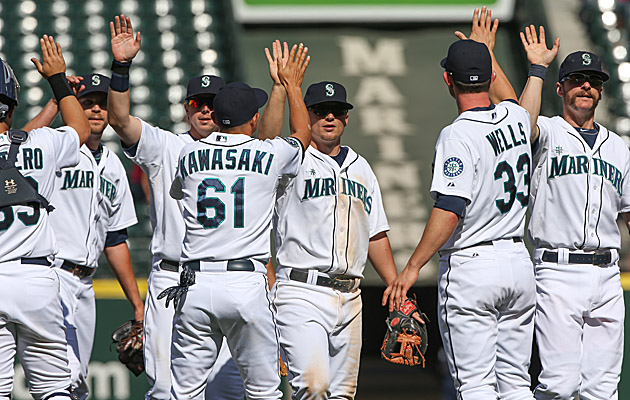 This has been a very common scene since mid-July. (Getty Images)
On July 15, the Seattle Mariners were 37-53, holding off the Minnesota Twins by two tenths of a percentage point (.411-.409) for the worst record in the American League. They trailed the Rangers by 17.5 games in the AL West and were 10 games back of the second wild-card spot.
This wasn't the case of a talent-rich squad underachieving like the Angels and Tigers at various points in the 2012 season, either. This was an offensively-challenged team meeting expectations.
Since then, amazingly, the Mariners have been among baseball's best teams. They've gone 24-11 and have crawled to within three games of .500. Better yet, the Mariners are within seven games of an AL wild-card spot entering a weekend series in Chicago. Also, a funny sidenote: They're ahead of the Red Sox by 1.5 games.
More from Eye on Baseball
So how is this happening? Further, can the Mariners keep it up?
For the former question, it's been mostly pitching. The Mariners have increased scoring from 3.8 runs a game to 4.1 runs a game since July 15. That's not very drastic, though it does help. But they're allowing almost a full run less (3.2 runs per game post-July 15, compared to 4.1 prior to that date).
They're also getting it done in close games, as they're 13-5 in games decided by two runs or less in this hot streak.
Finally, the Mariners have been beating up on bad teams. The way to positive-spin that is to say they're taking care of business as any good team should. Since July 15, they're 16-1 against the Royals, Blue Jays, Indians and Twins.
We do have to credit the M's for taking two series from the Rays and one from the Angels. But they also went 1-5 on an East-coast trip against the Yankees and Orioles.
The answer to whether or not the Mariners can keep this up and become a legitimate playoff contender all boils down to how they play against stronger competition and if they can continue winning close games.
Winning close games is a combination of myriad factors. Timely hitting, good starting pitching, great bullpen pitching and luck all factor in. Will the luck continue to fall the Mariners' way with a much more difficult upcoming schedule? Here's how it breaks down:
Below .500 opponents (10): Twins (4), Red Sox (3), Blue Jays (3)
Above .500 opponents (27): White Sox (3), Angels (9), A's (6), Orioles (3), Rangers (6)
The good news is the Mariners can do some damage against other wild-card contenders like the Orioles, Angels and A's. The bad news is that's an absurdly rough slate.
A nice barometer for how the rest of the season could unfold will be the three-game series against the White Sox this weekend. They'll be facing a power-hitting first-place team in a hitter-friendly ballpark without getting a start from ace Felix Hernandez. A worthy playoff contender at least wins one, if not stealing two. A poser gets swept in blowout fashion.
For more baseball news, rumors and analysis, follow @EyeOnBaseball on Twitter, subscribe to the RSS feed and "like" us on Facebook.