Postseason roster eligibility deadline, waiver-trade deadline come this week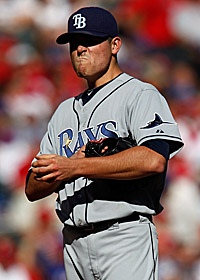 Moore in the playoffs was literally an exception to the rule last season. (Getty Images)
The calendar will finally turn to September this week. When it does, there are some notable changes in Major League Baseball, not to mention that postseason roster eligibility will have been (almost) finalized. Let's run everything of significance down here, hoping to clear up some confusion (much like we did with explaining how August trades can happen).
If you already know all the rules inside and out, please check out some other great Eye on Baseball content. This post is here because we got lots of questions about the following. We won't be going into every intricate detail, instead just the basics and in layman's terms.
Anywho, let's dive in.
• Postseason eligibility: The list of eligibles is established once the clock strikes midnight and the calendar shows September 1. As of that date, the only players eligible to compete in the postseason are those on the active major league rosters, in addition to those on the disabled list, bereavement list or suspended list.
There is an exception. If a player from the September 1 active roster is injured heading into the playoffs, he can be replaced by someone who wasn't initially on the postseason eligibility list. It happened last season, as Matt Moore of the Rays was able to place Alex Cobb, who hit the DL. Moore then started Game 1 of the ALDS against the Rangers, even though he wasn't called up to the majors until mid-September.
• Trades: Hitting September 1 also means the waiver-trading period has come to a close. Then again, trades can still happen in September. In order for this to happen, the player to be traded must have already passed through waivers. He also cannot have been previously pulled back off waivers (like Cliff Lee was, for example).
The reason September trades rarely happen is because of the postseason eligibility issue. One might recall there were rumors last season that the Red Sox would swing a last-second trade for Bruce Chen if they needed to play a one-game playoff against the Rays for the wild card. Obviously it didn't come to that, but had it come to fruition, Chen wouldn't have been eligible for the playoffs (one-game playoff games are considered part of the regular season). Still, trading to replace an injured player could get an acquisition added to the postseason roster, due to the exception we mentioned above with Moore from last season.
• September callups: Finally, once we hit September, rosters can expand. Any player on the 40-man roster could be called up from the minors to join the majors. Many top prospects debut in September and still maintain rookie eligibility the following season. Moore is again a 2011 example of this.
For more baseball news, rumors and analysis, follow @EyeOnBaseball on Twitter, subscribe to the RSS feed and "like" us on Facebook.