However difficult to swallow, being .500 means successful season for Pirates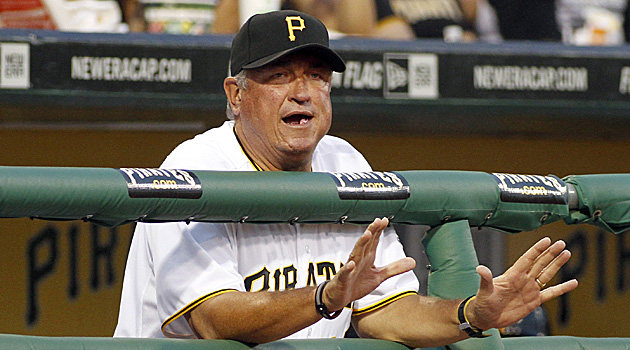 Despite the rough stretch, Hurdle's bunch still has great hope for a successful season. (Getty Images)
Considering how long the Pirates were holding down either first place or a wild-card spot in the standings this season, it would be difficult to look back at a -- for example -- 82-80 final record as a successful season. Still, that's the way it has to be.
Heading into a big game against the Cardinals Tuesday night, the Pirates are 5-13 since August 8. They followed up a pivotal series win in St. Louis by losing six of seven. Prior to Tuesday night's action, the Pirates are three games behind the Cardinals for the second wild card, with the Dodgers in between the two clubs.
Now, make no mistake about this: I am not saying the Pirates are cooked. Far from it. They still have a very realistic shot at a playoff run. In looking ahead at the schedule, seven games against the Cubs, six against the Astros and four against the Mets add up to suggest as much. It would be an incredible story and fans who have been suffering with the futility for the past two decades deserve to taste that kind of success.
But in looking back at the suffering the franchise has endured since 1992, which includes setting the new record for consecutive losing seasons among all of professional sports, breaking that record has to be the primary goal. Even if the Pirates themselves would not -- and definitely should not -- say so, making the playoffs would just be gravy. In order to build sustained success, sometimes babysteps need to be taken. Getting that monkey of their collective backs is bigger than a babystep.
The Pirates need to go 13-21 the rest of the way to finish 81-81 or 14-20 to finish 82-80. That shouldn't be difficult to achieve, either. However difficult a focus like this would be to swallow after what has transpired this season, those are the figures needed to achieve a successful 2012 season for the Pittsburgh Pirates.
For more baseball news, rumors and analysis, follow @EyeOnBaseball on Twitter, subscribe to the RSS feed and "like" us on Facebook.