More managers should bench players for lack of effort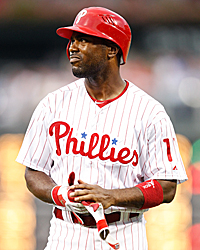 Rollins was benched Thursday for not running hard. (Getty Images)
The Phillies beat the Mets 3-2 on Thursday afternoon in little more than an extraneous contest between two non-contenders, but one story emerged. Phillies manager Charlie Manuel benched shortstop Jimmy Rollins for a lack of hustle.
On the play in question, Rollins loafed toward first on a pop up in the infield. Said popup was dropped and Rollins ended up on first. Had he run hard, he easily could have made it to second. After the half-inning, Rollins was removed from the game by Manuel.
My immediate reaction is praise. My secondary reaction is that this should happen a lot more. The amount of times I see a player appearing bored in the field or loafing on a groundball makes my stomach turn.
It's true that Rollins didn't know the ball would be dropped and that's exactly the point. You never know. These players aren't being expected to run a mile every at-bat. It's 90 feet. Or 180 if you head to second. With around five plate appearances per game, it's not asking too much to expect a dead sprint toward first base on every single batted ball, no matter if it's a routine grounder or a ball in the gap.
I once had a coach who liked to say "control what you can control." As in, you can't control how the other team plays, how the umpire calls the game or the weather. One thing a player can always control is effort. It would appear Rollins' long-time teammate Ryan Howard agrees.
More from Eye on Baseball
"You want guys to be able to go out and hustle," Howard said (via AP). "He knows better. He knows better. It's simple, be on time, hustle. That's it. That's two things that you can control. Go out there and do it. Charlie took care of it."
Considering Major League Baseball is chock full of great athletes being paid obscene amounts of money, giving 100 percent effort on every single play is not too much to ask. It's a baseline expectation. Whether it's putting himself in a ready position on every pitch on defense or running hard on the bases every time out, every major leaguer should be accountable for his effort.
Kudos to Charlie Manuel for benching Rollins, and let's hope this is less outlier and more a rule moving forward for all managers.
For more baseball news, rumors and analysis, follow @EyeOnBaseball on Twitter, subscribe to the RSS feed and "like" us on Facebook.