With 32 games left, Nationals pitchers set club record for strikeouts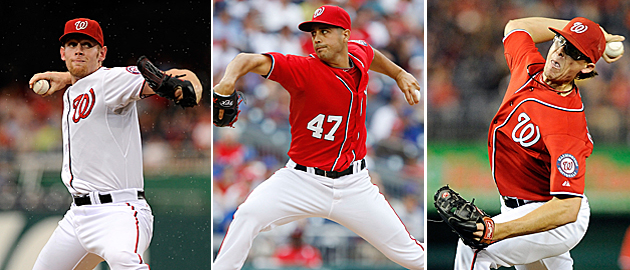 The Nats are now a strikeout juggernaut. (Getty Images)
Thursday night's Washington Nationals game against the Cardinals marked Game No. 130 for the Nats. Seeing as how the Nationals have never finished above .500 and this season they have been as many as 31 games over .500, club records are going to be shattered.
Here's one that just happened. When Nationals starter Edwin Jackson struck out Cardinals left fielder Matt Holliday in the top of the sixth inning, it was the 1,069th strikeout by the Washington pitching staff this season. That established a new Nationals record (via Nats PR on Twitter).
The Nats are fourth in the majors in strikeouts, behind the Brewers, Phillies and Rays, so they aren't going to set a big-league record or anything.
This is newsworthy because the Nationals are going to obliterate a club record. They came into Thursday averaging 8.21 strikeouts per game. At that pace, the Nats will end with 1,331. And, again, they previously never struck out more than 1,068 hitters in one season. That is pretty impressive.
For more baseball news, rumors and analysis, follow @EyeOnBaseball on Twitter, subscribe to the RSS feed and "like" us on Facebook.