August the cruelest month for Pirates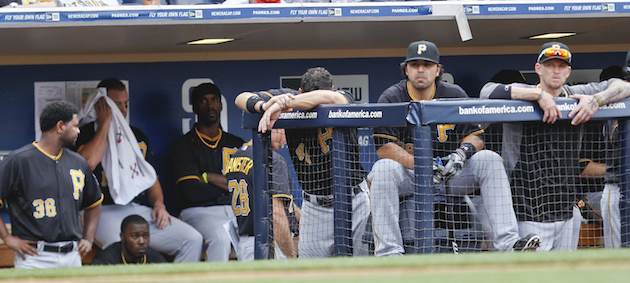 Pittsburgh is 11-16 in August. (AP)
Pirates fans may be breathing a little easier after taking two out of three from the Cardinals this week, but for a team that has finished with a sub-.500 record in each of the last 19 seasons, optimism may be in short supply.
Following Wednesday's victory over the Cardinals, Rob Biertempfel of the Pittsburgh Tribune-Review noted the Pirates have managed just a .399 winning percentage in August during their streak of losing seasons dating back to 1993 and were just 32-83 (.278) from 2008-2011. They are 11-16 during August this season, with one game remaining. (As an aside, their rough August has been aided in part by the struggles of their best player, Andrew McCutchen, who is hitting just .252/.347/.346 in August.)
Pittsburgh opened the month with a 59-44 record, three games behind the Reds in the National League Central and tied with the Braves for the two wild card spots, leading the Dodgers and Cardinals by four games. As of Friday afternoon, the Pirates are 70-60, nine games behind the Reds in the division and a half-game behind St. Louis for the second wild card spot.
That got me to thinking about September, so I combed through Baseball-Reference.com to look how the last full month of the season has treated the Pirates. The good news is that September has been relatively more kind to Pittsburgh, going 196-283 in September (.409) during the last 18 seasons (there was no baseball in September of 1994).
If the Pirates played .409 baseball over their final 32 games, they'd go 13-19 and finish 83-79, breaking the streak of winless seasons, but likely falling short of the playoffs.
Starting with Friday's game against the Brewers, 23 of the team's final 32 games are against teams with losing records, including six against the Astros and seven against the Cubs. Pittsburgh has two more three-game series against NL Central-leading Cincinnati and three against wild card contender Atlanta.
Baseball Prospectus has Pittsburgh's playoff percentage chance at 27.0 percent (and percent chance at a division crown at just 0.6 percent), so there's a bigger goal ahead than just finishing with a winning record.
On a side note, looking through 19 seasons of Pirates records is pretty sad. Of those 19 seasons, the Pirates didn't spend a single day above .500 in five different seasons and didn't even reach .500 in two of those. With a 70-60 record entering Friday's game, the 2012 version of the Pirates have a winning record later this season than they have in any of the previous 19 seasons. It's only the fourth time in the streak the Pirates have been above .500 in August. Last year Pittsburgh's last day above .500 was Aug. 1, losing their Aug. 2 game to fall to 54-54. Pittsburgh's had a winning record at any point after the last day of April in just 11 of the 19 years.
For more baseball news, rumors and analysis, follow @EyeOnBaseball on Twitter, subscribe to the RSS feed and "like" us on Facebook.