Kris Medlen: Braves' staff ace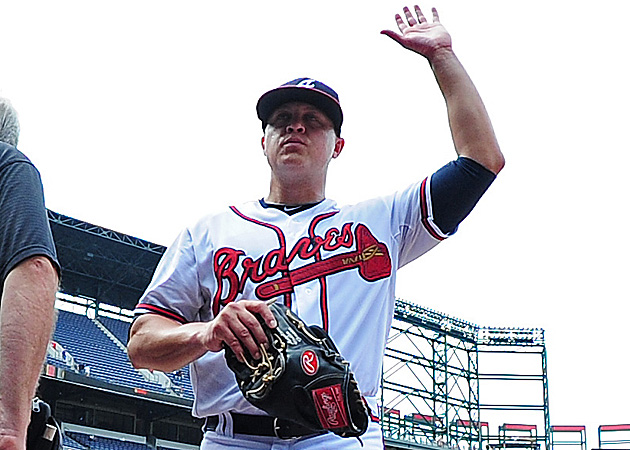 Medlen finally allowed a run Monday, but only one. (Getty Images)
In the top of the seventh inning Monday, the Colorado Rockies scored a run. Generally speaking, that wouldn't be newsworthy, but this one was. It marked the first run Braves starting pitcher Kris Medlen had allowed since August 11.
The scoreless inning streak for Medlen was halted at 34 1/3 innings, making it the second-longest such streak for a Braves starting pitcher since 1966, according to Elias Sports Bureau (via ESPN Stats and Info). Greg Maddux, not surprisingly, was the only pitcher since then to go longer than Medlen without giving up a run. Medlen is no Greg Maddux, but he's become the staff ace for these Braves.
As a starter this season, Medlen is 6-0 with a 0.72 ERA and 0.83 WHIP in 49 2/3 innings. He's struck out 50 and walked only five. But Medlen's dominance as a starter goes back to before he had Tommy John surgery last season. Check this out:
#Braves' 18 consecutive wins in Medlen starts is most by one team since '01 Yankees won 20 consecutive starts by Roger Clemens

— David O'Brien (@ajcbraves) September 3, 2012
I'd say the sign that someone has arrived is when they get mentioned alongside Roger Clemens and Greg Maddux on the same day. It would be an incredible stretch to make any sort of comparison between the Braves' 26-year-old and two of the greatest pitchers of all time, but it's not a stretch to say the Braves have their ace as they look to hold onto a playoff spot this September.
Last September, Braves' starters were 6-9 with a 4.55 ERA and 1.46 WHIP as they blew a double-digit wild-card lead and missed the playoffs. They had a group of mid-level rotation arms but no true ace. If Medlen continues to dominate like this, he's the difference-maker they didn't have during the historic collapse.
For more baseball news, rumors and analysis, follow @EyeOnBaseball on Twitter, subscribe to the RSS feed and "like" us on Facebook.