Giants starting pitchers slumping; is it cause for concern?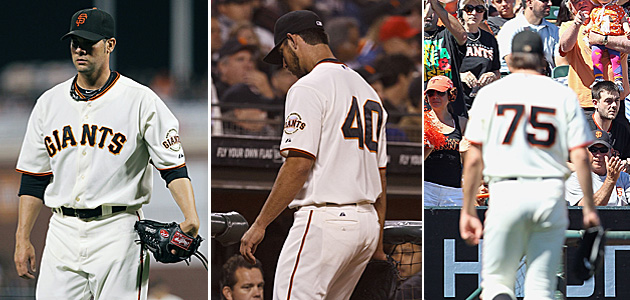 Bumgarner, Vogelsong and Zito have struggled lately to different degrees. (Getty Images)
The Giants sit atop the NL West, sporting a 4 1/2-game advantage over the Dodgers heading into a pivotal three-game series between the rivals this weekend in San Francisco. The Giants we've come to know sport great starting rotations, but lately their starters have been struggling.
The rotation has a collective 7.51 ERA and 1.70 WHIP in the past eight games. Small sample, sure, but it's gotta be concerning for a team in a pennant race, especially one that prides itself on strong starting pitching. Even more concerning? Those eight games came against the Astros, Cubs and Diamondbacks, a.k.a. two league doormats and an underachiever.
For some of the Giants starters, the struggles go back a bit further.
• Ryan Vogelsong is 2-3 with a 10.13 ERA and 2.06 WHIP with five homers allowed in his last five starts. He's averaging just over four innings per start in that timeframe. His has to be the most worrisome line.
More Eye on Baseball coverage
• Madison Bumgarner is 0-3 with a 6.48 ERA and 1.68 WHIP in his last three starts.
• At this point in his career, Barry Zito isn't counted on for much, but he was helpful in the first half of the season. In his last eight starts, though, Zito has a 6.59 ERA. Not that this is especially hurt the Giants. Inexplicably, they've won six of those eight starts. Still, can that continue if he keeps pitching so poorly? The easy answer is no.
• While he's overall pretty well gotten back on track from a slump, Matt Cain is still 5-3 with a 3.82 ERA since his perfect game. He's supposed to be the staff ace now that Tim Lincecum has transformed into a mid-rotation-at-best guy and those numbers -- especially in the pitcher-friendly NL West -- aren't ace-caliber.
The funny thing is, Lincecum hasn't been too bad of late. In his last seven starts, he is 4-3 with a 3.29 ERA. He's still allowing far too many baserunners, but after his horrific first half, I think the Giants will take a 3.29 ERA.
Still, the staff as a whole is struggling recently.
There are two ways to spin this, so feel free to tailor the argument to your desired agenda. Here are two:
1. The Giants pitching staff won't continue to be bailed out, especially against tougher competition like the Dodgers.
2. The Giants pitching staff is going through a rut, which happens to the best of players during the course of a six-month season. When that gets turned around, watch out, because the Giants have already gone 21-11 since Aug. 2.
My opinion is firmly planted in the camp of the second point. For one, the Giants have been getting BABIP'd pretty soundly. On the season, the starters have allowed a .281 batting average on balls in play. In the last two weeks, opposing batters are hitting .325 on balls in play. Also, the rate of home runs per fly ball has risen in the past two weeks. Though not always nearly as scientific as many believe, those can be indicators of fluky small-sample lines, especially the BABIP rise. Sabermetric indicators FIP and xFIP also show the starting rotation has been more "unlucky" than bad in the past few weeks.
If you don't like those stats -- as many old-schoolers don't -- just look at the talent possessed by Cain and Bumgarner. Cain is fine and Bumgarner will turn it around based upon having great stuff.
Also consider the Giants only have six games left -- all the Dodgers -- against teams with a winning record. Yes, the Padres and Rockies have been playing better in the past several weeks, but they still aren't overly stiff competition.
So, yes, the Giants rotation is in a slump, but it's going to get turned around. They just better hope that happens quickly, as the aforementioned series against the Dodgers looms.
For more baseball news, rumors and analysis, follow @EyeOnBaseball on Twitter, subscribe to the RSS feed and "like" us on Facebook.