Nationals should have been more creative with Stephen Strasburg's starts this season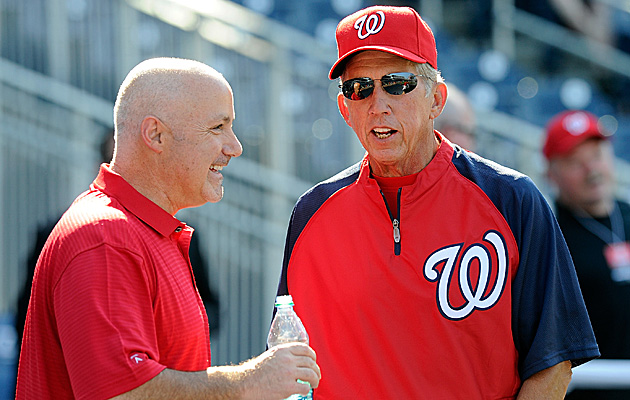 Rizzo and Johnson could have been more creative with their ace. (Getty Images)
Being that this is the Internet era and it has been more than an hour since the Nationals announced Stephen Strasburg's season is over, the move has already been dissected to death. Allow me to offer my opinion, which is the Nationals really should have been far more creative with this situation.
If they really wanted to -- at the advisement of team doctors -- hold Strasburg to an innings limit, why wasn't more done to ensure his season didn't have to end three weeks early with the Nationals sporting the best record in baseball?
The Stephen Strasburg Shutdown
Here are a few ideas:
• Six-man rotation: The Nationals have plenty of able-bodied starting pitchers. If they used John Lannan and/or Chien Ming-Wang (when he was healthy) in the rotation along with Strasburg, Gio Gonzalez, Jordan Zimmermann, Edwin Jackson and Ross Detwiler, that trims the number of starts that Strasburg must make. Thus, his innings would be lower than they are now and he could keep going.
• Skip a start once a month: In teaming with a six-man rotation, the Nats could drop back to five maybe once a month, sitting Strasburg out for a turn. In this scenario, Strasburg would likely have started around 22 or 23 games at this point and could easily get to October at that rate.
• Temporary shutdown: I long thought that shutting a pitcher completely down and then having him rev it back up a few weeks later would put him at a further injury risk. I was wrong.
"It's obviously a hypothetical question, but no," said Dr. Jerome Enad, a surgeon who has performed a dozen Tommy John surgeries, when I asked if a shutdown/rev back up situation would increase the injury risk. "If he had (injury) symptoms and were shut down, it would actually be beneficial."
So maybe the Nationals take normal, in-season muscle soreness on Strasburg around the All-Star break, say he's going to the disabled list with a sore elbow and get him going again in mid-August?
• Have him start the season late: Had Strasburg not begun his season with the Nats until May, he'd be good to go until mid-October. Of course, I don't like this idea because the Nationals wouldn't be where they are now without Strasburg's brilliant April.
• Start him in the bullpen: Again, I don't like this one because of how much Strasburg's big April contributed to the Nationals' hot start -- and ensuing swagger, which I believe they call "Natitude." Still, if you look at what Kris Medlen is doing now for the Braves -- he's also coming off Tommy John surgery, and the Braves started him in the 'pen -- it paints a compelling picture.
Whatever the decisions, I just feel like pitching him mostly on normal rest until 160 innings was folly, especially once the Nationals realized they were contenders. We don't know how the rest of the season -- and postseason -- will unfold, but I'd have liked to see a bit more creativity.
For more baseball news, rumors and analysis, follow @EyeOnBaseball on Twitter, subscribe to the RSS feed and "like" us on Facebook.