Fernando Rodney's unlikely, magical season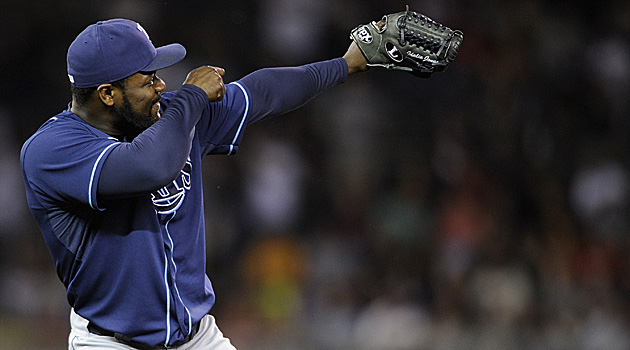 Fernando Rodney's arrow-shooting season has been special, and it could be historic. (Getty Images)
Fernando Rodney headed to Tampa Bay this season sporting the career resume of a mediocre relief pitcher. Sure, he could throw hard and appeared tough on hitters on occasion. But he also was wildly erratic, lacked control and allowed far too many baserunners.
With just more than three weeks left in the 2012 season, Rodney is having a potentially historic season. His numbers would be special if he were named Mariano Rivera. Given Rodney's track record, though, the story gets even more amazing.
Rodney came into the season with a career 4.29 ERA and 1.46 WHIP. He had a decent strikeout rate (8.2 K/9) but also walked 4.9 hitters per nine innings. At times, he had held down the role of closer -- including when he saved 37 games in 2009 for Detroit -- but was never dominant for extended stretches.
More from Eye on Baseball
In 2012, Rodney has closed an MLB-best 42 games in 44 save opportunities. He has a 0.69 ERA and 0.78 WHIP. He has struck out 66 hitters in 65 1/3 innings while only having walked 12.
His control is perhaps the most amazing part of Rodney's turnaround. He walked 28 hitters in 32 innings last year. His 1.7 BB/9 means he has shaved off more than three walks per nine innings from where he traditionally has been.
I went into baseball-reference.com's play index and set the parameters to at least 40 saves, an ERA of 1.00 or better, a WHIP of 1.00 or better and a strikeout rate of at least one per inning.
Guess how many pitchers have done that previously? Zero. That's right, the only result from players in a single season with those numbers since 1901 was Fernando Rodney in 2012. No Mariano Rivera, no Trevor Hoffman, no Billy Wagner, no Dennis Eckersley*.
*Actually, Eckersley was 1/3 of an inning away. In 1990, he had 48 saves, a 0.61 ERA, a 0.61 WHIP and 73 strikeouts in 73 1/3 innings. Still, we're comparing a Hall of Famer and six-time All-Star who won a Cy Young and MVP in his career with Fernando Rodney.
Those numbers might be slightly cherry-picked, but I could have gone with a 0.70 ERA and 0.80 WHIP to tailor the exercise to Rodney. Instead, I went with rounded numbers and expected to see some company.
So if he can keep it going, Rodney is peerless in baseball history with those numbers. In yet another in a seemingly infinite number of examples of the beautiful unpredictability of baseball, a 35-year-old former also-ran reliever is having a season for the ages.
For more baseball news, rumors and analysis, follow @EyeOnBaseball on Twitter, subscribe to the RSS feed and "like" us on Facebook.