Alleged bathroom assault during Dodgers-Giants game leads to arrest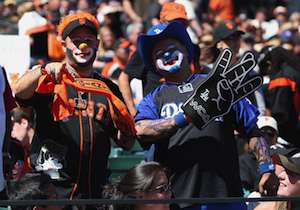 These are guys are clowns, but at least they're not hurting anyone else. (Getty Images)
Seriously, Giants fans and Dodgers fans, can't we just cut out this stupid stuff? Baseball's fun and all, but it's not worth real, live physical confrontations.
Christopher Torii Smith, 26, was arrested for attacking another man in a bathroom during Sunday's Dodgers-Giants game at AT&T Park in San Francisco, according to the Silicon Valley Mercury News.
Smith allegedly approached the 21-year-old victim in the bathroom and began hitting him. When the victim fell to the ground, Smith continued beating him, a police official told the newspaper.
There has yet to be any determination of a motive, police said. The victim suffered a laceration to his lip.
Smith is awaiting trial on two charges of DUI causing serious injury or death.
In no way, shape or form do I want this to cut a wide swath over an entire group of fans, because it's silly to say one fan represents millions of fans. Every fanbase has its bad apples, its loundmouths and its louts. Too often, those people get the attention they crave and cast a pall over the 99.9 percent of fans who go to games to have fun and act like human beings. It's just sad when a fun rivalry on the field is overshadowed by the kind of incidents we've had with the Giants and Dodgers the past two years.
For more baseball news, rumors and analysis, follow @EyeOnBaseball on Twitter, subscribe to the RSS feed and "like" us on Facebook.