The Lineup: Lannan does Strasburg impression; NL wild card race getting crowded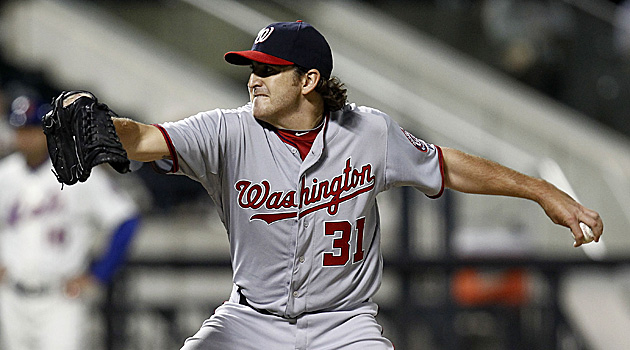 Lannan filled Strasburg's shoes admirably Wednesday. (Getty Images)


Another big night, as the Orioles and Athletics continued to impress, the Tigers moved to within a game of the White Sox and the National League wild-card race is starting to get absurdly exciting.

Full Wednesday scoreboard with recaps and box scores for every game








3 UP

John Lannan, Nationals: There was much ado about the Stephen Strasburg shutdown this past weekend. Inserted into his rotation spot has been John Lannan and Wednesday was Strasburg's former turn. Lannan went out and threw 5 2/3 innings of shutout ball, allowing five hits and one walk. And the Nationals won their 89th game of the season.

Those pesky San Diego Padres: They got good pitching from Clayton Richard and the bullpen along with some timely hitting and brought home the 3-2 victory. The win gave the Padres a three-game sweep of the Cardinals and moved San Diego to within 6.5 games of the second wild-card spot. They host the Rockies for three games this weekend, too. Do you believe?

A.J. Griffin, Athletics: The rookie went eight shutout innings against the Angels, only allowing six hits while also striking out six. If we can remove that sweep to these very Angels last week, the A's have won 15 in a row. Alas, we can't do that, but 15 of 18 ain't too shabby. Griffin, by the way, is now 6-0 with a 1.80 ERA.

3 DOWN

Paul Maholm's 5th inning: He cruised into the fifth after four shutout innings and the Braves had a 2-0 lead. He would only get one more out while coughing up eight runs, six of which were earned.

Angels' playoff chances: They were surging coming into the series, but have now lost three straight to the A's are find themselves 3.5 games out. Of course that's doable, but they have thus far missed a huge opportunity this week to make up some serious ground.

The Mets at home: Both the Braves and Nationals have won more games in Citi Field than the Mets since the All-Star break. I'm not kidding. The Mets have won four games at home. The Nationals have won six games in Citi Field and the Braves have taken five.








Who wants to win a game? The Cardinals and Dodgers are reeling, but both still in pretty good position to take a playoff spot. The Cardinals hold the second wild-card spot, while the Dodgers only trail by a game. They've just both been playing so poorly -- along with the Pirates -- that they've allowed four new teams into legitimate contention (Phillies, Brewers, Diamondbacks and Padres). Well, now the Dodgers and Cardinals get to face each other for four games, so someone has to win. If recent play is any indicator, they'll split. It'll be Lance Lynn (14-7, 4.04) against Josh Beckett (1-2, 3.86 with Dodgers) Thursday. 10:10 p.m. ET

Oriole magic? The Orioles just keep getting it done, Wednesday night behind the impressive ninth inning of rookie Manny Machado. The O's will look to sweep the Rays Thursday. It's Jeremy Hellickson (8-10, 3.33) of the Rays against -- probably, not official yet -- Wei-Yin Chen (12-9, 4.06) of the Orioles. 12:35 p.m. ET

Tiger tie? The Tigers are again within one game of the White Sox in the AL Central. It -- much like the NL wild card -- feels like no one really wants to run with this thing. The two clubs square off again Thursday, and a Tigers win means a tie atop the division. We get a marquee pitching matchup, too, as it's Justin Verlander (13-8, 2.91) against Chris Sale (16-6, 2.88). 8:10 p.m. ET

Thursday's probable pitchers








• Big Papi the GM: Injured Red Sox designated hitter David Ortiz knows what he'd be looking for in players if he were a general manager. "We need more bad [bleepity bleepers]." Love it. Simple and to the point. WEEI.com has the full story with Ortiz's views on the Red Sox, his contract situation and the blockbuster trade from late August.

• Catching up with Manny: USA Today's Jorge L. Ortiz cold-called Manny Ramirez and got an interview with him. If interested in Ramirez and what he's up to now, this is a good read.

• Football on baseball infields soon to be extinct: Finally. (Businessinsider.com)

• Did the Mitchell Report withhold agents' names? The New York Times is reporting that Senator George Mitchell was told that agents Sam and Seth Levinson played a role in getting steroids for their clientsk, yet neglected to name the Levinson brothers in the actual report. You might recall that the Levinson brothers are the agents for Melky Cabrera, among others.

• Bravo, Angels, MLB: Fountain Valley (Calif.) high school had its baseball equipment stolen, but thanks to donations by the Angles, Major League Baseball and the local community, the school has ended up with more equipment than it previously had. (Prep Rally)

For more baseball news, rumors and analysis, follow @EyeOnBaseball on Twitter, subscribe to the RSS feed and "like" us on Facebook.