Could oblique injury prevent Adam Dunn from three-true-outcome history?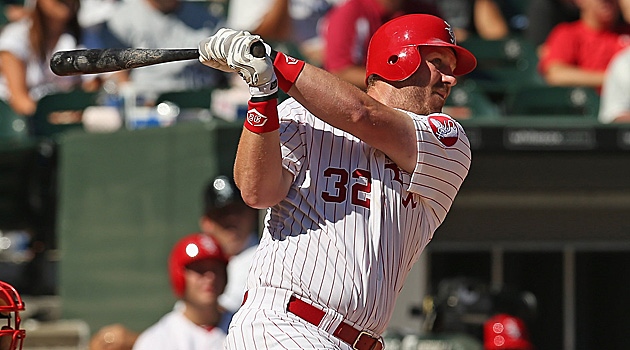 Adam Dunn's return could bring three-true-outcome history to fruition. (Getty Images)
White Sox designated hitter Adam Dunn hasn't played since Sept. 5, hampered by an oblique injury. He hopes to return to the lineup on Saturday, according to Chicago Tribune White Sox beat writer Mark Gonzales.
If Dunn can return and stay healthy enough to remain in the lineup just a few more times, chances are very high that he'll make three-true-outcome history.
Dunn has become one of the more fascinating players to watch in recent years from the standpoint of the three-true-outcome prism. That is, the percentage of his plate appearances that end in a walk, strikeout or home run.
This season, Dunn has 96 walks, 194 strikeouts and 38 home runs in 573 plate appearances. That means one of the three true outcomes has happened 57.2 percent of the time that Dunn has stepped to the plate this season. But I'm not here to talk percentages.

No, I'm here to note Dunn is very likely -- assuming he can stay healthy enough to rack up a few more plate appearances -- to become the first man in the history of baseball to have a season with at least 100 walks, 200 strikeouts and 40 homers (reference: Baseball-Reference.com's wonderful play index tool).
That's right, no one has ever done that. Dunn is only four walks, six strikeouts and two homers away, so he might only need about five more games to get there.
Dunn has come close before. He was five strikeouts short in 2004 and six strikeouts short in 2006. Hopefully an oblique injury doesn't cost us the chance to see him get there this time around. It's far too entertaining a stat line to ignore.
For more baseball news, rumors and analysis, follow @EyeOnBaseball on Twitter, subscribe to the RSS feed and "like" us on Facebook.