Hanley Ramirez, Marlins president David Samson exchange one-liners through media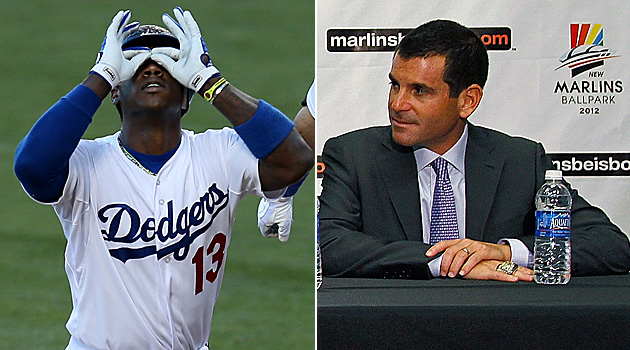 These two guys don't seem to be overly fond of each other. (Getty Images)
Marlins president David Samson told MLB.com Thursday why his club traded former All-Star shortstop Hanley Ramirez to the Dodgers in late July.
"We just realized we couldn't win with him," Samson said. "It was that simple."
Shots fired!
Hanley Ramirez's return fire?
"Now are they winning without me?" Ramirez asked, via the Los Angeles Times.
Boom.
Actually, though, neither team is winning now.
The Marlins were 45-52 when Ramirez was traded. Heading into Friday night, they have gone 18-29 since the deal.
The Dodgers were 53-45 when they acquired Ramirez, and have gone 21-25 since.
Ramirez, 28, hit .246/.322/.428 with 14 homers, 48 RBI and 49 runs in 93 games. In 46 games for the Dodgers, Ramirez has hit .260/.318/.492 with 10 homers, 38 RBI and 23 runs.
Although I don't think Ramirez is a cancer who takes losing with him wherever he goes, he's not exactly the star he once appeared on the way to be becoming. On the other hand, it's pretty fallacious to paint the picture that he couldn't be a part of a winning team. Samson and his front-office cohorts just didn't put together a good enough on-field product for the 2012 season, Ramirez or no. Samson's sniping at his former star doesn't really accomplish much.
For more baseball news, rumors and analysis, follow @EyeOnBaseball on Twitter, subscribe to the RSS feed and "like" us on Facebook.