Yunel Escobar's eye black message contained gay slur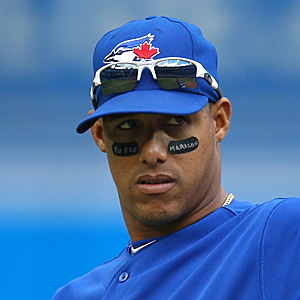 This message may get Escobar in trouble. (Getty Images)
A message written on the eye black of Blue Jays shortstop Yunel Escobar on Saturday caused an uproar Monday afternoon, especially on Twitter and in the sports blogosphere.
As can be seen with those in possession of eagle eyes, to the right -- or, for a closer look, click here -- Escobar had a message written in spanish on the aforementioned eye black. Translated to English, it means "you are a (insert f-word that's a slur against homosexual men)."
One possible scenario bouncing around the 'net is that a teammate wrote that on Escobar's eye black as a prank and Escobar either A) didn't see it; or B) just wore it anyway.
If it was Option B, Escobar made a mistake in judgment. Displaying that word in public is sure to set off a firestorm these days, so it should be avoided at all costs. Major League Baseball is already looking into the matter, reports Jerry Crasnick of ESPN.com.
If it was Option A, this is another in a long line of examples of the juvenile nature of sports locker rooms.
If Escobar himself wrote it and voluntarily wore the eye black during the game Saturday, well, that's pretty stupid. Even those who don't care for the PC Police would have to admit that anyone should know what will follow wearing something like that in public. He used language offensive to an entire community.
One thing is for sure: Considering the politically correct nature of society these days -- and the fact that Escobar just offended many people -- this issue won't likely disappear in a matter of minutes. A few blogs have already posted that Escobar should be fined or even suspended. The best guess is there will be many more opinions on the subject in the next 24 hours.
The Blue Jays have released the following statement on the matter:
"The Toronto Blue Jays do not support discrimination of any kind nor condone the message displayed by Yunel Escobar during Saturday's game. The club takes this situation seriously and is investigating the matter."
For more baseball news, rumors and analysis, follow @EyeOnBaseball on Twitter, subscribe to the RSS feed and "like" us on Facebook.