Jeff Kent set for Wednesday's 'Survivor' debut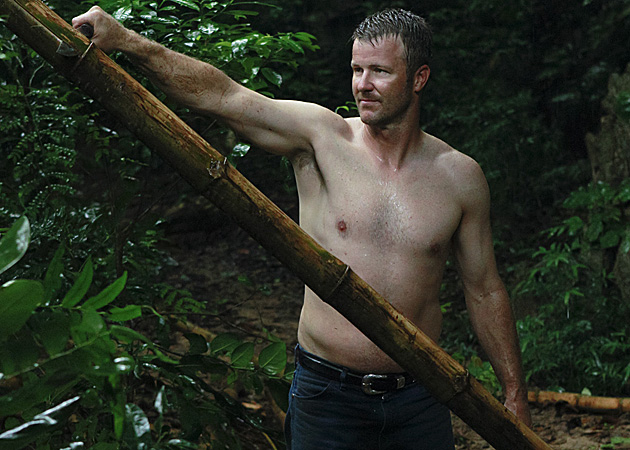 "Survivor Smacked Me In The Chops" - Jeff Kent during the premiere episode of Survivor: Philippines. The twenty-fifth installment of the Emmy Award-winning reality series premieres with a special 90-minute edition, Wednesday, September 19 (8:00 - 9:30 PM ET/PT) on the CBS Television Network. #Survivor. (Robert Voets/CBS© 2012 CBS Broadcasting Inc. All Rights Reserved.)
Jeff Kent concluded a 17-year Major League Baseball career after the 2008 season, and his resume may one day land him in the Baseball Hall of Fame. Beginning this Wednesday on CBS, however, we'll get to witness another side to Kent. He will be one of 18 contestants vying for the $1 million prize on "Survivor: Philippines."
Not that the prize money is Kent's motivation to be on the show.
"To compete," Kent told CBSSports.com when asked why he wanted to be on the show. "I love to compete at anything. I've also been a fan of the show since its inception. It's more real than any other show out there and it challenges you both physically and mentally."
Given that Kent is 44 years old and has been out of baseball for several years, he's likely not in near as good shape as he was back in his prime. Still, that doesn't mean he's behind the curve heading into the show.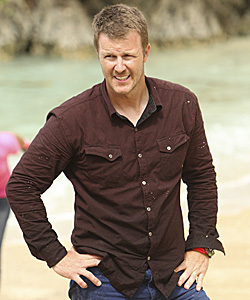 Day 1 from SURVIVOR: PHILIPPINES. (Monty Brinton/CBS© 2012 CBS Broadcasting Inc.)
"I've kept myself pretty physically competitive," he said, noting that he did do one thing special in preparation for being on the show.
"I did get a coconut from the store on work on getting those things open, so I knew how to do it once I got out there."
In terms of the game itself, Kent's past profession could put a serious bullseye on his back. Not only are physically imposing men often targeted early -- called "physical threats" -- but people with a good amount of money are also targeted, as many players in the past have based game decisions on monetary "need."
Kent made over $86 million in his playing career (source: Baseball-Reference.com). Team that with his fame, and there could be a problem. The most famous person related to professional sports to be on the show before is former Cowboys and Dolphins head football coach Jimmy Johnson. Johnson ran into issues with some tribemates -- one in particular, named Marty -- wanting to get him out of the way due to his fame. It worked, as Johnson was ousted early.
So, knowing this -- as Kent said he's watched every season of the show -- shouldn't Kent go in with the plan of lying about, or at least hiding, his history?
"I was prepared for both, and I could either play with my history or against it," he explained. "I could wait and see if it came up and then deal with it. That was my gameplan with my history and how I would deal with it."
Kent also believes that having been such a high-profile athlete will help him, in terms of possible nerves compared to the other contestants.
"I think it was probably easier for me, because baseball is a game of anticipation and I lived it for 20 years," Kent said when asked if he was nervous at the start of the game.
An added wrinkle for this season of Survivor is that three men who were evacuated from past seasons for medical reasons have returned. Kent was delighted to see them when they showed up, but not for the reasons one might think.
"I was grateful, as a competitor," he said. "As a baseball player, you have stat sheets, video, a gameplan going into each game. On Survivor, it takes time to learn your opposition during the course of the game, but I felt like knowing these three guys and their personalities from previous seasons was an advantage for me with strategy."
And for good measure:
"Also, they've done the work before at camp, so I was able to sit back and let them do all the work."
Another aspect of Kent's game that is intriguing is his personality. That is, he is known for being a fiery competitor and rubbed people the wrong way at times in his career. He once got into an altercation with Barry Bonds -- a teammate -- in the Giants' dugout. So I asked Kent if he was worried about staying out of his own way, in terms of temper. He didn't sound concerned.
"It all depends on how the game is going," he said. "Having a big mouth at times could help. Anything can happen out there. Personalities conflict, sometimes lazy people conflict with those who do the hard work. It evens the playing field. You just have to figure out where you fit in and I wasn't worried about that. If I needed to be more reserved, I just needed to adjust."
All taping has concluded for the upcoming season, and all that remains is the live finale at the end of the season -- which, again, begins Wednesday. Kent obviously can't answer any questions about how he fared in the game, but what about if he is invited to compete on a future installment?
"I'd have to scratch my head," he said. "It's a real challenge."
"I really just had a good time and enjoyed myself. I was prepared for it to be really hard, having watched the show for 12 years. I went in ready and I want to win this dang thing."
We'll see if he has the ability to work through the obvious built-in disadvantage that is his monetary situation and high-profile past. If he finds a way to work with those issues, he'll have a shot at winning this dang thing. It all starts Wednesday, Sept. 19 on CBS at 8 p.m. ET/PT. Tune in.
For more baseball news, rumors and analysis, follow @EyeOnBaseball on Twitter, subscribe to the RSS feed and "like" us on Facebook.