Weirdest stat line from 18-inning game belongs to Miguel Olivo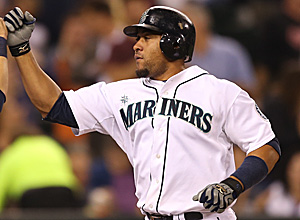 Olivo's night pretty well summed up the weird game in Seattle. (Getty Images)
When a game lasts 18 innings, there are bound to be plenty of baseball oddities. Tuesday night's -- OK, Wednesday morning's -- marathon game between the Orioles and Mariners in Seattle was chock full of weird circumstances. But there was one I loved the most.
Entering the game, Mariners catcher Miguel Olivo had struck out 77 times and walked just four.
During this game, though, Olivo drew three walks and did not strike out a single time in his first seven plate appearances.
This coming on a night when Mariners hitters struck out 18 times. Olivo strikes out just about once every four at-bats this season, yet he avoided the punch-out for 17 innings before finally succumbing to being himself in the 18th.
Mariners hitters only drew six walks. Entering the game, Olivo drew one walk about every 48 plate appearances. Yet he drew three on this night.
Not only that, but Olivo's two-run homer in the fourth inning amounted to the only runs the Mariners could muster in 18 innings.
Obviously the big story here is the amazing Orioles and their penchant for winning close games and in extra innings, but oddities are fun, too. And Olivo gave us quite the stat-line, under the circumstances.
For more baseball news, rumors and analysis, follow @EyeOnBaseball on Twitter, subscribe to the RSS feed and "like" us on Facebook.