NFL slaps down Giants fan Alex Smith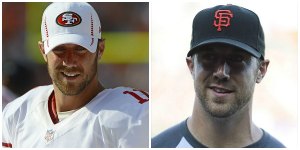 Alex Smith is allowed to wear the New Era cap on the left, but not the one on the right. (US Presswire)
San Francisco 49ers quarterback Alex Smith is a fan of his adopted city's baseball team, it's just that the overlords at the National Football League do not enjoy sharing the spotlight, or even acknowledging other sports.
Smith has often worn a (San Francisco) Giants cap to postgame press conferences, but if he does it again, he'll incur a $15,000 fine. According to the San Jose Mercury News, Smith was initially fined $15,000 for wearing the baseball team's cap, but got away with just a warning when he was told to not do it again.
According to the report, a Giants cap "constitutes non-sponsored gear, and players must abide by the NFL's dress code 90 minutes before and after each game."
What's funny is that this year the NFL has partnered with New Era, the same company that produces the official caps for Major League Baseball, including the Giants. So the league will have no problem if he wears a San Francisco 49ers model 59FIFTY New Era cap (or perhaps even a New York Giants 59FIFTY), he's fine, but a SF in a different color -- and it's a $15,000 fine.
Smith even joked that he'd continue to wear the (baseball) Giants hat as long as the baseball team paid his fine -- "Yeah, can you call Larry Baer for me?" Smith asked reporters, referencing the Giants CEO, according to the report.
He may not wear the hat, but the Mercury News' Cam Inman noted Smith is still cheering for the Giants, and despite his weekend duties, is keeping up with their pennant hopes and can cite the team's magic number on cue.
For more baseball news, rumors and analysis, follow @EyeOnBaseball on Twitter, subscribe to the RSS feed and "like" us on Facebook.