The Lineup: Russell Martin lifts Yankees, Ervin Santana sinks White Sox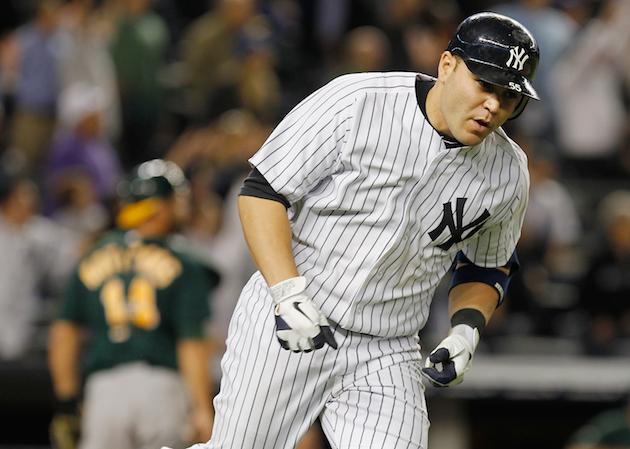 Russell Martin's home run gave the Yankees a walk-off victory over the Orioles. (Getty Images)
In what may be a rarity over the next week-and-a-half, no teams clinched on Friday and no teams were eliminated. But there was plenty of action, so let's get to it …
Full Friday results with recaps and box scores for every game






3 UP
Russell Martin, Yankees: Martin led off the 10th against Oakland's Sean Doolittle with a walk-off homer, giving the Yankees their sixth straight win and ninth victory in their last 11. The blast was Martin's second walk-off of the seasona after hitting one against the Mets on June 10.
Matt Wieters, Orioles: Baltimore was able to keep pace with the Yankees thanks to Wieters' three RBI in a 4-2 victory over the Red Sox. Wieters knocked in two with a single in the fourth and then doubled in a run in the sixth off Boston starter Jon Lester, who suffered his first-ever loss to the Orioles. Lester entered the game 14-0 in 20 starts against Baltimore. Thanks to the Yankees' victory over the Athletics, the Orioles did move into the top spot in the AL wild card race.
Ervin Santana, Angels: After giving up a home run to leadoff hitter Alejandro De Aza to start the game, Santana didn't allow another hit until a two-out single by Alexi Ramirez in the fifth inning. Those would be the only two hits he'd allow to the White Sox, matching a career-high with 11 strikeouts and walking just one. In his last 10 starts, he's 5-2 with a 3.08 ERA and allowed five hits or fewer while pitching at least five innings in all 10 of those games.
3 DOWN
Tommy Hanson, Braves: After giving up three home runs and five runs overall in 5 1/3 innings of a 6-2 loss to the Phillies, Hanson extended his winless streak to seven starts. Hanson is 0-4 with a 5.06 ERA in his last seven starts and appears to be the odd man out when it comes to the Braves' postseason rotation.
Joey Votto, Reds: Votto has a Gold Glove and is a very good defensive first baseman, but he's among the most aggressive in the game at the position when it comes to going after the lead runner on sacrifice bunts. It often works out, but Friday night it backfired. After Sam LeCure hit Elian Herrera to lead off the inning, Votto tried to get Herrera at second on A.J. Ellis' sacrifice bunt. Instead, it was too late and both Herrera and Ellis were safe. Following another sacrifice and a walk, both Herrera and Ellis scored on Matt Kemp's two-out single, giving Los Angeles a 3-1 victory over the Reds and putting off Cincinnati's hopes of clinching the NL Central for another day.
James McDonald, Pirates: In his first outing since being banished to the bullpen, the right-hander gave up a home run to the first batter he faced, Justin Maxwell, then hit a batter, allowed a triple and a walk before being taken out of the game. McDonald was 9-3 with a 2.37 ERA in 17 starts at the All-Star break, but since then he's 3-5 with a 7.52 ERA in 13 outings.





Looking for 20: Washington's Gio Gonzalez will make his second attempt to win his 20th game of the season after losing his last start to Atlanta. The lefty will face the Brewers' Wily Peralta. Milwaukee has won all three of Peralta's starts. 1:05 p.m. ET
Lucky No. 19: Mets knuckleballer R.A. Dickey will make his third attempt at winning his 19th game of the season, facing Miami's Mark Buehrle. Buehrle is making his 30th start of the season, marking the 12th year in a row he has started at least 30 games. 1:10 p.m. ET
Clinching time: The Reds can become the first team to win their division with a victory over the Dodgers or another Cardinals loss in Chicago. Mat Latos faces off against rookie right-hander Stephen Fife at Great American Ball Park. 4:05 p.m. ET





• Losing for the greater good: It's not as if the Red Sox have anything left to play for -- it could be better if they continued their losing ways so they can guarantee a top-10 draft pick, which also would help them spend more money in the free agent market. WEEI.com's Alex Speier explains.
• Déjà vu for MVP debate: One of the big stories that has garnered attention this week is the MVP candidacy of Miguel Cabrera. As FanGraphs.com points out, we just had this same debate -- with Cabrera -- two years ago. Check out the link for the strikingly similar numbers.
• Stat of the day: Alejandro De Aza of the White Sox has not grounded into a double play this season. He can become the fifth player since 1942 to qualify for the batting title without a GIDP and first since Craig Biggio in 1997. [Yahoo's Big League Stew]
• Stat of the day, part 2: The Pirates could set a major league record by allowing 90.4 percent of those attempting to steal bases against them succeed. Pirates catchers have thrown out just 15 of 153 would-be base stealers entering Friday's game against the Astros. [Pittsburgh Tribune-Review]
• History lesson of the day: Sparky Lyle was the first player with entrance music, according to an excellent article on Deadspin. But "Enter Sandman," it was not; instead, Lyle entered to "Pomp and Circumstance" -- you know, the graduation song.
• Don't read if you're easily offended: I love the Onion -- and when they hit sports, they usually get it right. They did with Bobby Valentine -- just fair warning before I link the post, if you don't like bad words (and more bad words) don't click this link.
For more baseball news, rumors and analysis, follow @EyeOnBaseball on Twitter, subscribe to the RSS feed and "like" us on Facebook.