Former Pirates owner Kevin McClatchy reveals he is gay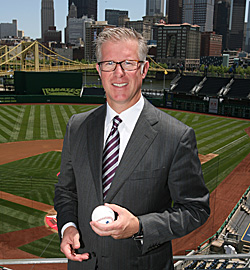 McClatchy in PNC Park in 2006. (Getty Images)
Kevin McClatchy was the owner of the Pittsburgh Pirates from 1996 until 2007, when he stepped down from the post. In a story in Sunday's New York Times that was posted online early Saturday, McClatchy revealed for the first time publicly that he's gay.
"Tens of thousands of people have played either professional minor league baseball or major league baseball," McClatchy noted (NY Times). "Not one has come out and said that they're gay while they're playing."
Nor have any baseball executives while they are actively participating in baseball operations. The lack of a pioneer on this front and hiding his lifestyle secret caused issues for the former owner.
"I think I was more paranoid, for sure, about people," he said (NY Times). "And suspicious, definitely. And angry."
Still, not being actively involved with Major League Baseball didn't make things a ton easier to come out now, per McClatchy (NY Times):
"I'm sure people will criticize me because I came out later, and I should have come out while I was in baseball and in the thick of it."

But, he added, "I could find excuses for why not to do this article until I'm blue in the face."

"I've got a birthday coming up where I'm turning old," he said, referring to his 50th, in January. "I've spent 30 years -- or whatever the number is specifically -- not talking about my personal life, lying about my personal life."

He shook his head. "There's no way I want to go into the rest of my existence and ever have to hide my personal life again," he said.
From here, the obvious question moving forward is if any active players/front office personnel make the decision to do what McClatchy has done -- only while they are still active. It would be quite the burden because of the attention and scrutiny that would follow such an announcement. Then again, hiding such a huge secret is obviously a pretty big burden to shoulder in the first place.
For more baseball news, rumors and analysis, follow @EyeOnBaseball on Twitter, subscribe to the RSS feed and "like" us on Facebook.