Orioles' extra-inning winning getting historic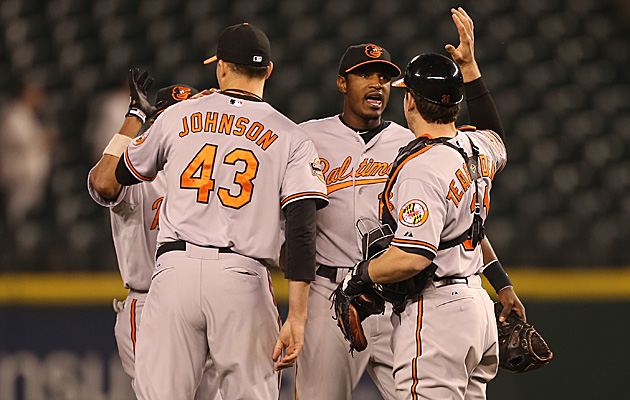 Celebrations like these have been unbelievably common this season for the O's. (Getty Images)
Well, this is shocking (please note ridiculously obvious sarcasm): The Baltimore Orioles won an extra-inning game on Saturday afternoon. It was their 16th consecutive extra-inning victory, and the Orioles are now a staggering 16-2 in extra-inning games this season. That is just silly, but it's getting to the point of being historic.
Including only teams that played at least 10 extra-innings games in their campaign -- so as to eliminate the small-sample flukes -- the 2012 Orioles are now in the top 10 all-time in winning percentage for extra-inning games.
Here's the list (source: Baseball-Reference.com's play index):
1. 1995 Indians, 13-0 (1.000)
2. 1949 Indians, 18-1 (.947)
3. 1987 Expos, 12-1 (.923)
3. 1969 Pirates, 12-1 (.923)
5. 1984 Mets, 11-1 (.917)
6. 1959 Pirates, 19-2 (.905)
7. 1938 Red Sox, 9-1 (.900)
7. 1929 Cardinals, 9-1-1 (.900)
9. 2012 Orioles, 16-2 (.889)
9. 2002 Giants, 8-1-1 (.889)
As for any translation to postseason success, this particular stat isn't much of one. Of the other nine teams listed here, only two went to the playoffs -- the '95 Indians and '02 Giants, both of whom lost in the World Series.
Still, this is some kind of special season that the Orioles are putting together in terms of extra-inning wins. Only two teams in baseball history have ever won more games at a higher winning percentage in extras.
For more baseball news, rumors and analysis, follow @EyeOnBaseball on Twitter, subscribe to the RSS feed and "like" us on Facebook.