Welcome to the 2012 postseason: San Francisco Giants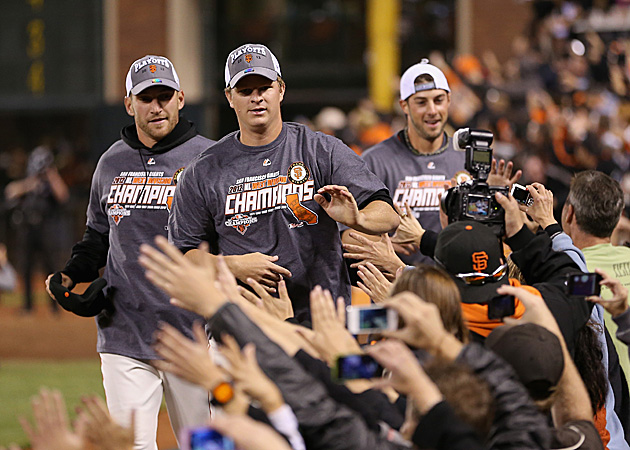 For the second time in the past three seasons, the Giants are NL West champs. (Getty Images)
With a victory over the Padres Saturday night -- and a Dodgers loss to the Reds Saturday afternoon -- the San Francisco Giants are now the 2012 NL West champions. Thus, they have booked their trip to the postseason this October. Let us check out their resume.
Have you stayed with us before? Yes, the Giants are no stranger to postseason play. They have won the NL West eight times and have one wild-card berth. They've made the playoffs six times in the past 16 seasons.
How did you enjoy your last visit? Quite well, as these Giants won the World Series in 2010, marking the first championship for the franchise since moving to San Francisco.
Frequent flyers? Having had that World Series victory just two seasons ago, these Giants have some postseason experience. Interestingly, though, the only offensive regular from both the 2010 World Series and this Giants team is catcher Buster Posey. Still, the overwhelming majority of the pitching staff -- both starters and relievers -- is the same. Also, right fielder Hunter Pence played in the NLDS with the Phillies last season and second baseman Marco Scutaro played in the ALDS and ALCS for the 2006 Athletics. These guys won't be in awe of the big stage.
What's on your itinerary? As things stand now, the Giants would face the Reds in the NLDS as the three seed, however, they are only three games behind the Nationals for the top seed in the NL. Should the Giants get there, it would be a huge advantage and significantly increase their chances of hitting the NLCS and possibly the World Series.
How long will you be staying with us? There's potential here to bring the World Series trophy to AT&T Park for the second time in three years. Though overshadowed by several other teams due to certain storylines -- Nationals, Orioles, Athletics, White Sox, etc. -- the Giants are a great baseball team that has now gone 33-14 since Aug. 2. With Tim Lincecum pitching well of late, the Giants can run out a stellar playoff rotation of Matt Cain, Madison Bumgarner, Lincecum and Ryan Vogelsong. They have a good, though not great, bullpen and play adequate defense. As opposed to some years in the recent past, the offense isn't a problem, either, led by NL MVP frontrunner Posey, the Giants are comfortably in the top half of the NL in runs scored. Really, there isn't a glaring weakness on this ballclub. Consider it a solid sleeper to win it all, as the Giants won't be overmatched by anyone in a five- or seven-game series.
For more baseball news, rumors and analysis, follow @EyeOnBaseball on Twitter, subscribe to the RSS feed and "like" us on Facebook.