The Lineup: Rough day for division leaders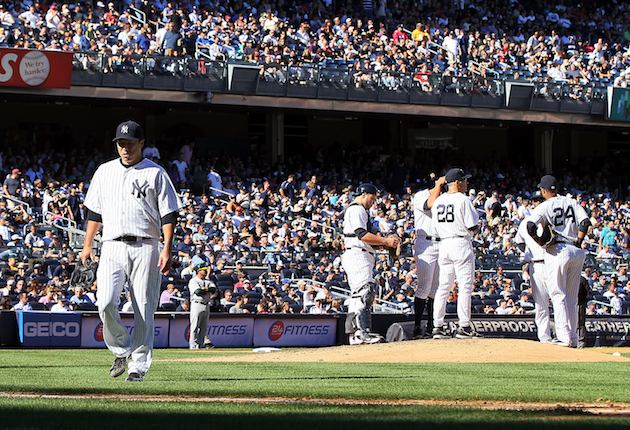 Hiroki Kuroda fell to 14-11 with a loss on Sunday. (Getty Images)
It was a rough day for division leaders -- the Yankees, White Sox, Nationals, Reds and Giants all lost. However, neither the Orioles, nor the Tigers could gain ground -- and the Tigers even lost a half-game after getting swept by the Twins in a doubleheader.
Full Sunday scoreboard with recaps and box scores for all games






3 UP
Adrian Gonzalez, Dodgers: If you take away two pitches, Homer Bailey may be in this section. But those two pitches were hit for homers by Gonzalez. In his career, he's now 8 for 15 with five homers against the Reds right-hander.
Felix Doubront, Red Sox: Doubront didn't get the win in Sunday's 2-1 Boston victory over Baltimore, but he sure deserved it. He struck out 11 in seven innings, allowing a run on four hits, while walking two. Over his last three starts -- coming against the division's top three teams in the Yankees, Rays and Orioles -- he's allowed six runs on nine hits while striking out 21 in 19 1/3 innings.
B.J. Upton, Rays: Upton hit his eighth home run in 14 games in Sunday's victory over the Blue Jays, leading Tampa Bay to its fifth straight win.
3 DOWN
Tigers: With a chance to take over the AL Central lead, Detroit was swept by Minnesota in a doubleheader at home. The 2-1 loss in the nightcap was Detroit's 11th consecutive loss in a 1-run game. The Tigers managed just 12 hits in the two games (one fewer than the Twins notched in game one), 10 of those were singles. Miguel Cabrera doubled in each game for the only team's only extra-base hits.
Nationals outfielders: Both Bryce Harper and Jayson Werth lost balls in the sun at Nationals Park, leading to Brewer runs. Haper added an error in the eighth innings (as did second baseman Steve Lombardozzi).
Larry Vanover, umpire: The first base umpire blew a call in the second that ended up being huge for the Athletics and Yankees. Josh Donaldson was called safe in the second, but replays showed he was clearly out. Cliff Pennington later homered to give Oakland a 3-0 lead. The A's would go on to win, 3-2.





Holding out hope: The Brewers are 2.5 games behind the Cardinals for the second wild card spot, but time is running out. Right-hander Marco Estrada hasn't allowed a run in his last two starts, spanning 13 2/3 innings. The rookie is 4-6 with a 3.56 ERA overall. He faces Jordan Zimmermann. 1:05 p.m. ET
Let's play two: Baltimore has a chance to take over the American League East lead on Monday, playing a doubelheader at home against the Blue Jays. A sweep coupled with a Yankees loss would give Baltimore a half-game lead over the Yankees, who travel to Minnesota. 4:05 p.m. ET
Diamondbacks at Rockies: Colorado has lost nine in a row, and if they make it 10, they'll match the franchise's all-time worst season. Twice, the Rockies have lost 95 games in a season, in the inaugural season of 1993 and in 2005. In the first three games of the series against Arizona, Colorado has scored 19 runs, but given up 33. 8:40 p.m. ET
• Bill James is back: The Red Sox hired Bill James years ago, but he wasn't as involved as he had been in recent years. That is likely to change, the Boston Herald's Michael Silverman reports.
• Pinch-hitting: Bobby Valentine said his pinch-hitting for Jose Iglesias in the middle of an at-bat wasn't unusual. Baseball Prospectus' Ben Lindbergh researched how rare it was -- there had been three instances of a pinch-hitter in the middle of an at-bat (that wasn't the result of injury) since 2005.
• Just having fun: The Athletics weren't too worried about Eric Chavez's complaints about their dugout antics. "You take the fun away and we're screwed," Jonny Gomes told Joe Stiglich of the Bay Area News Group.
• Is the triple crown 'nonsense'? So writes MLB Network's Brian Kenny. It's a very interesting read -- and one of the points he makes that so many of those who like to dismiss "stat geeks" is not that batting average and RBI aren't important, it's just that they (along with homers) aren't the three most important offensive categories in baseball. I love this like about Henry Chadwick, who invented batting average -- "Let's cut Chadwick some slack. In the early days of the game, walks were considered to be the fault of the pitcher, and home runs were rarities. Chadwick was doing this, by the way, in roughly the same era when doctors stuck leeches on sick people, and the Army thought throwing thousands of foot soldiers directly into artillery fire was a good idea. Medicine and military strategy have since advanced."
• No changes for Pirates? Pirates general manager Neal Huntington said he's not expecting to make any changes to the front office this offseason -- but that's not ultimately up to him. It's still possible Huntington gets fired, which would lead to other changes, as well. [Pittsburgh Tribune-Review]
• Good genes: Torii Hunter Jr., son of the Angels' Torii Hunter, committed to play football and baseball at Notre Dame. The younger Hunter is a 6-foot wide receiver. His younger brother, Money, is a highly recruited football player for the class of 2013. [Eye on College Football Recruiting]
• Taking the field: Ever wonder what goes into getting the field ready for a game -- the Detroit Free Press has a great photo essay on the Comerica Park ground crew.
For more baseball news, rumors and analysis, follow @EyeOnBaseball on Twitter, subscribe to the RSS feed and "like" us on Facebook.