Triple Crown Tracker: Miguel Cabrera in need of homers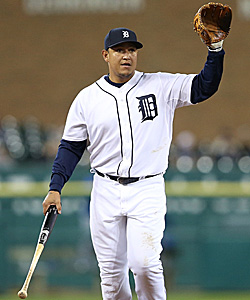 Cabrera's awfully close to the Triple Crown, but needs more homers. (Getty Images)
As Tigers third baseman Miguel Cabrera continues his pursuit of the first Major League Baseball triple crown since 1967, we'll continue to track it here.
Wednesday, the Tigers face Jeremy Guthrie and the Royals in Comerica Park. In his career, Cabrera has faced Guthrie 24 times and he's torched him to the tune of .368/.458/.648 with two homers and four RBI.
Here's how Cabrera stands in the three categories of note in this triple crown.
Batting average
Cabrera, .329
Joe Mauer, .326
Mike Trout, .324
Derek Jeter, .321
Good news for Cabrera here, because Mauer is facing lefty CC Sabathia, and Mauer is just 7-for-37 (.189) career against the Yankees ace.
Home runs
Hamilton, 43
Cabrera, 42
Dunn, 41
Encarnacion, 41
Granderson, 40
Hamilton is facing Jarrod Parker and the A's Wednesday. He's 0-for-3 lifetime, but such small samples are pretty meaningless. It's an interesting matchup, though, because Rangers Ballpark is one of the most homer-friendly parks in the majors, however, Parker has the best home run rate in the entire American League (just 0.5 homers per nine innings allowed).
RBI
Cabrera, 133
Hamilton, 124
He's fine here.
For more baseball news, rumors and analysis, follow @EyeOnBaseball on Twitter, subscribe to the RSS feed and "like" us on Facebook.