American League Rookie of the Year Watch: Also-ran edition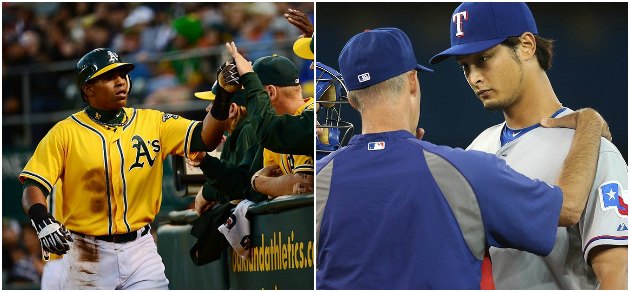 Two imports, Yoenis Cespedes and Yu Darvish, should receive Rookie of the Year votes. (US Presswire)
We have just a week left in the season, so we're again looking at the major awards handed out by the Baseball Writers Association of America, and one award that's already been decided is the American League Rookie of the Year. Mike Trout will win. There's zero doubt about that. But voters must list three names, so what's more interesting is who else could garner votes.
WinnerFrontrunner
Mike Trout, Angels: The question isn't will he be the Rookie of the Year, the question is, will he be the MVP?
Others receiving votes
Yu Darvish, Rangers: You can debate whether Japanese imports should be eligible, but they are, so Darvish should -- and will -- receive votes. While he hasn't been the instant Cy Young candidate many expected, he's 16-9 with a 3.90 ERA and 214 strikeouts, which is third in the American League. Only Max Scherzer is striking out batters at a higher rate (per nine innings) than Darvish 's 10.43 and only Jered Weaver is giving up fewer hits per nine innings pitched (7.164).
Yoenis Cespedes, A's: When he's been on the field, he's been spectacular. While many fretted that the Cuban import wouldn't be ready for the big leagues, he's put up a .289/.350/.492 line with 21 home runs. He had a stretch of 21 games in August and September without a homer, but now has five over his last 14 games. Although his power has returned this month, his batting average and on-base percentage has plummeted in September, where he's hitting .236/.307/.449. The long season usually gets to rookies, but it has to be tougher for Cuban imports because the season isn't just longer, but it's much longer.
Jarrod Parker, A's: Billy Beane had a busy offseason, making several big moves, and sending Trevor Cahill (and Craig Breslow) to Arizona for Parker, Ryan Cook and Collin Cowgill is one of his better moves. Parker, 23, is 11-8 with a 3.40 ERA. In September, he's 3-1 with a 1.86 ERA in four starts.
Tommy Milone, A's: Gio Gonzalez has thrived in Washington, but Milone and the three other players the Athletics got in return have proven to be a shrewd move for both sides. The 25-year-old lefty has gone 13-10 with a 3.74 ERA for the A's.
Scott Diamond, Twins: Diamond's cooled off in the second half of the season, but he's still put together a solid rookie season. The lefty went 7-3 with a 2.62 ERA in 12 starts before the break and 5-5 with a 4.63 ERA in 13 second-half starts. Overall, he's 12-8 with a 3.64 ERA.
Will Middlebrooks, Red Sox: Middlebrooks played in just 75 games, but he was very good in those 75 games, putting up a .288/.325/.509 line with 15 home runs, making Kevin Youkilis expendable. A wrist injury cut his season short, but his 2.0 WAR (FanGraphs version) is third-best among AL position players.
For more baseball news, rumors and analysis, follow @EyeOnBaseball on Twitter, subscribe to the RSS feed and "like" us on Facebook.