Playoff Snapshot: Top seeds still in play; White Sox have work to do in AL Central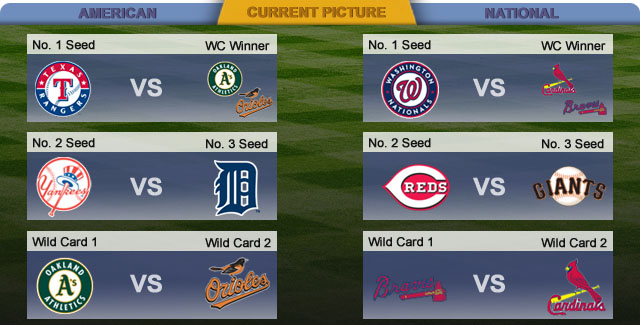 Just six days left in the regular season, but there are still plenty of races to settle. Let's take a look.
Playoff picture page | Thursday's scoreboard | Three-day schedule
Friday's biggest games
1. Rays at White Sox, 8:10 p.m. ET. Two-fold playoff implications here. On one hand, the Rays have won eight straight games and have crept to within two games of the final AL wild-card spot. Deja vu? We'll see. The White Sox, meanwhile, have lost eight of their last nine and have now fallen two games back of the Tigers in the AL Central.
2. Nationals at Cardinals, 8:15 p.m. ET. It's a possible NLDS preview, as the Nationals have a one-game lead over the Reds in the race for the No. 1 seed in the National League, and the Cardinals have a three-game lead over the Dodgers for the second wild card. Also of note: Due to the Braves playing such good baseball of late, the Nationals still haven't clinched the NL East.
3. Angels at Rangers, 8:05 p.m. ET. The Rangers are coming off a big win over the Athletics that gave them a four-game lead in the AL West, but there's still some work to do in terms of clinching the division and the AL's top seed (they have a two-game lead over the Yankees for that). On the flip-side, the Angels are now in desperation mode after a loss to the Mariners Thursday put them two back in the wild-card race -- and tied with red-hot Tampa Bay.
4. Yankees at Blue Jays, 7:07 p.m. ET. The Yankees have been playing very well for two weeks, but haven't been able to shake the Orioles, as they hold just a one-game lead for the AL East crown. Also, don't forget about the AL's top seed for the Bronx Bombers. They're closing with the Jays and Red Sox while the Rangers have to deal with the Angels and A's. Making up two games is entirely plausible.
5. Red Sox at Orioles, 7:05 p.m. ET. As stated above, the Orioles are hot on the Yankees' heels in the AL East. Amazingly, with just six games to play, the Orioles could end up anywhere from the top seed in the AL to missing the playoffs. Both are longshots, but either are possible.
Magic Numbers
NL East: Nationals, 3
AL West: Rangers, 3
AL WC1: Orioles, 4
NL WC2: Cardinals, 4
AL Central: Tigers, 5
AL WC2: Athletics, 5
AL East: Yankees, 6
Grim Reaper Watch
The Diamondbacks and Phillies can each be mathematically eliminated Friday with either a loss of their own or a Cardinals win.
The following teams are already done: Red Sox, Blue Jays, Royals, Indians, Twins, Mariners, Mets, Marlins, Pirates, Cubs, Astros, Padres, Rockies.
Playoff chances, via coolstandings.com
AL East
Yankees 82.1%
Orioles 17.3%
Rays 0.6%
AL Central
Tigers 87.1%
White Sox 12.9%
AL West
Rangers 95%
A's 4.9%
Angels 0.1%
AL wild card
A's 75.5%
Orioles 70%
Rays 18.5%
Yankees 17.4%
Angels 13.7%
Rangers 4.9%
NL East
Nationals 98.2%
Braves 1.8%
NL Central
Reds already have clinched
NL West
Giants already have clinched
NL wild card
Braves 98.2% (already clinched, but could still win NL East)
Cardinals 92.3%
Dodgers 4.5%
Brewers 3.2%
For more baseball news, rumors and analysis, follow @EyeOnBaseball on Twitter, subscribe to the RSS feed and "like" us on Facebook.