The Lineup: Jered Weaver makes his Cy Young case, Justin Verlander and Chris Sale up next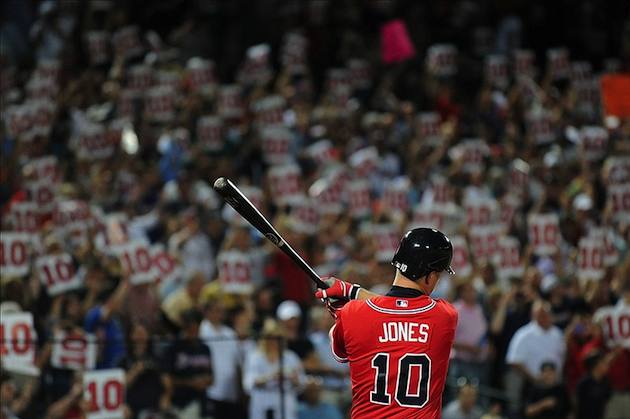 Fans honored Chipper Jones before Friday's game. (US Presswire)
It was Chipper Jones day in Georgia, but it was Homer Bailey night in Pittsburgh. The last Friday of the regular season was one to remember.
Full Friday scoreboard with box scores and recaps for all games.






3 UP
Jered Weaver, Angels: Weaver has won double-digit games in each of his seven years in the big leagues, but for the first time he's a 20-game winner. The right-hander allowed two runs on five hits in seven innings against the Rangers and improved to 20-4 this season.
Alex Rios, White Sox: Rios hit his 25th home run of the season in the fourth inning and scored again in the sixth as Chicago used a 3-1 victory over the Rays to pull within a game of the Tigers. Rios was 3-for-4 and is hitting .309/.333/.546 in September.
Ryan Hanigan, Reds: Bailey deservedly gets the headlines. But catchers play a huge role in any no-hitter, and the Reds' catcher might be one of the most underrated players in the game. Not only did Hanigan call a fantastic game, he also cut short the Pirates' best chance at a run when he threw Andrew McCutchen out trying to steal in the seventh inning. Hanigan has thrown out 48 percent of would-be base-stealers, the best mark in the majors.
3 DOWN

Chipper Jones, Braves: Georgia's governor declared it Jones' day in the state, but it wasn't his night at the plate. Jones went 0-for-4 after the team honored him at Turner Field. Atlanta lost 3-1 to the Mets, snapping a five-game winning streak.
Edwin Jackson, Nationals: Washington's right-hander faced 15 hitters and recorded only four outs in the Nationals' 12-2 loss to the Cardinals. Jackson's former mates scored five off him in the first and four more in the second. He has allowed 25 first-inning runs in his 30 starts this season.
Darwin Barney, Cubs: Barney's streak of 141 consecutive games without an error at second base ended with a throwing error in the eighth inning. If he had just made it through the inning, he would have broken the record set by Placido Polanco.
Ace up: The Tigers can feel the White Sox breathing down their necks but must feel better with Justin Verlander making what is likely his final start of the regular season on Saturday. Verlander also gets one last chance to make his case for the Cy Young. In his last outing against the Twins, Verlander threw a four-hit shutout. 4:05 p.m. ET
Ace up, part 2: Within a game of the Tigers, Chicago sends lefty Chris Sale to the mound. Like Verlander, he'll be making his final case for the Cy Young but also trying to pull Chicago even with the Tigers. In his only start against the Rays this season, Sale struck out 15 in 7 1/3 innings on May 28. 4:05 p.m. ET
Same old, same old: If the Pirates lose another game this season, they'll clinch their 20th consecutive losing season. Bailey's no-hitter dropped the Pirates to 76-81, meaning the best they can finish is .500. For the Reds, Mike Leake will make his 30th start of the season. Not only is it a career-high, it also makes him the fifth Reds starter to reach that mark this season. 7:05 p.m. ET
• Stranger than fiction: The Tampa Bay Times remembers last year's final night of the regular season in comic form.
• Plate fiction: Want a mixture of baseball and fiction? The Onion A.V. Club has you covered with a nice list of baseball fiction.
• Higher calling: Yahoo's Jeff Passan catches up with Grant Desme, the former A's pitching prospect who is now a monk.
• Devil's advocate: A Sabermetric case for Miguel Cabrera's MVP candidacy. [Baseball Prospectus]
• A fake in Cooperstown? Is the bat displayed at the Hall of Fame that purports to be the one that Roberto Clemente used for his 3,000th and final hit may be a fake. The Pittsburgh Tribune-Review not only has that story but also marks the 40th anniversary of Clemente's final game.
• Stat of the day: In Jon Paul Morosi's story on Derek Jeter comes this amazing stat -- only once in his career has Jeter played in a game in which his Yankees had been mathematically eliminated from the postseason. That's madness.
For more baseball news, rumors and analysis, follow @EyeOnBaseball on Twitter, subscribe to the RSS feed and "like" us on Facebook.