Triple Crown Tracker: Joe Mauer's average creeping up on Miguel Cabrera's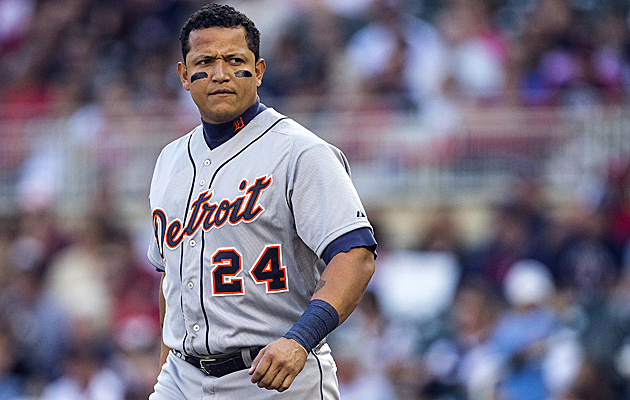 Home runs and batting average are up for grabs, but Cabrera still has a great shot at the triple crown. (US Presswire)
As Miguel Cabrera continues his quest for baseball's first triple crown since 1967, we continue to track the three categories and provide matchup information for Monday's slate.
Monday, Cabrera and his Tigers face Bruce Chen and the Royals in Kansas City's beautiful Kauffman Stadium. Cabrera is hitting .379/.514/.793 with three homers and seven RBI in 37 career plate appearances against Chen. I think that's enough to say he "owns" Chen, no?
In Kauffman Stadium this season, Cabrera is hitting .346/.370/.385 with zero homers and two RBI in 27 plate appearances. In 44 career games in Kauffman Stadium, Cabrera is hitting .352/.403/.580 with nine homers and 37 RBI.
So if career history is any indicator, Cabrera has a great shot at a big Monday night. To the leaderboard ...
Batting average
Cabrera .325
Joe Mauer .323
Mike Trout .321
Adrian Beltre .321
Bad news for Cabrera here on the career history side. Mauer is facing Aaron Laffey of the Blue Jays Monday and Mauer carries a career batting average of .409 against Laffey.
Home runs
Cabrera 43
Josh Hamilton 43
Edwin Encarnacion 42
Adam Dunn 41
Curtis Granderson 40
Encarnacion left Sunday's game with a minor injury. Hamilton will be facing off Monday against Jarrod Parker of the A's. Parker is among the most stingy pitchers in baseball in terms of coughing up the longball and Hamilton is 0-for-5 in his career against Parker.
RBI
Cabrera 136
Hamilton 127
As we've been saying, this one isn't in doubt without a Hamilton explosion. There are only three games left.
For more baseball news, rumors and analysis, follow @EyeOnBaseball on Twitter, subscribe to the RSS feed and "like" us on Facebook.