R.I.P. 2012 Los Angeles Angels of Anaheim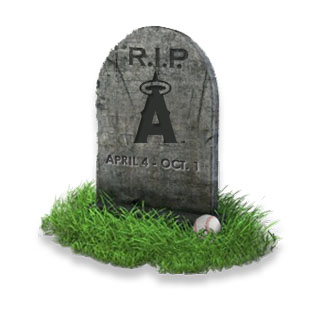 No matter what so many casual fans seem to think, you can't buy your way to the postseason in Major League Baseball -- and once again the 2012 Angels have proven that. Despite their free spending in December, we now eulogize the season that was...
What went right
Mike Trout. Mike Trout and Mike Trout. Trout put together a season for the ages, becoming the youngest player to record a 30-30 season and generally take the American League by storm. There's also Jered Weaver, who could very well win the Cy Young.
What went wrong
The heralded rotation never lived up to expectations (besides Weaver). C.J. Wilson followed up his All-Star first half with a mediocre second half, Ervin Santana could never be counted on and Dan Haren was 12-12 with a 4.32 ERA. You may also have heard something about a slow start -- not just by the Angels, who went 8-15 in April, but also of Albert Pujols, who was hitting below the Mendoza Line as late as May 14.
MVP: There may be a debate on who is the American League MVP, but there's no debate who is the Angels' MVP. Trout entered the season as the game's top prospect, and he's been even better than anyone dreamed he could be. An honorable mention should be thrown out here for
LVP: Santana has five seasons with double-digit wins, winning 17 in 2010 and then putting up a career-best 3.38 ERA in 2011, while also throwing his first no-hitter. Despite a $30 million contract, he wasn't expected to be the ace of a rotation that already featured Weaver, Wilson and Haren and later added Zack Greinke. But he still didn't live up to the rather meager expectations, going 9-13 with a 5.16 ERA in 30 starts, giving up 39 home runs, the most in the big leagues.
MLB free agents to be: OF Torii Hunter, RHP Zack Greinke, INF Maicer Izturis, RHP LaTroy Hawkins, RHP Jason Isringhausen, RHP Dan Haren ($13.5 million club option), RHP Ervin Santana ($13 million club option), C Chris Iannetta ($5 million club option)
Offseason gameplan
The Angels would like to resign Greinke and Hunter and will likely make those two their top priorities. However, it won't be a complete loss if Hunter goes elsewhere. Meanwhile, they'd be wise to cut bait on Haren and Santana, who can be good, but just aren't worth their hefty options.
If the Angels can convince Greinke to stay (by coughing up a huge contract), Jerry Dipoto only has to tinker with the bullpen and has a chance to be back in the hunt for 2013.
Ridiculously premature prediction for 2013
Albert Pujols actually hits .300 in the first month of the season, while Mike Trout does not. Both end the season north of .300. Although Trout can't match his impressive 2012, he's still an elite player and leads the Angels to the playoffs.
For more baseball news, rumors and analysis, follow @EyeOnBaseball on Twitter, subscribe to the RSS feed and "like" us on Facebook.